Orthopedics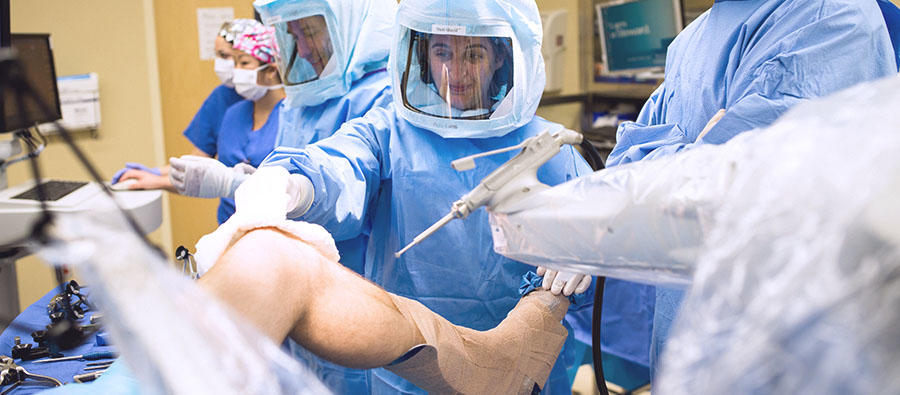 We are here to help you find what you need.
St. Elizabeth's Medical Center, the official hospital for the Boston Breakers and the Boston Cannons, offers patients access to some of Boston's finest orthopedists who specialize in innovative treatment options for bone and joint care, spine surgery, sports medicine injuries and rehabilitation, and pain management.
The multidisciplinary team of orthopedic specialists and support staff excels at creating individualized treatment plans for each patient. This highly skilled team of surgeons, physician assistants, nurses, rheumatologists, athletic trainers, and therapists work together to ensure every orthopedic patient receives the highest quality of care available.
Services include:
General orthopedics
Shoulder repair/surgery
Hand and upper extremity concerns
Foot and ankle
Joint replacement and revision
Women's orthopedic health (endocrinology and rheumatology)
Spine and lower back
Outpatient rehabilitation
Inpatient rehabilitation
Trauma and fracture care
St. Elizabeth's employs the most up-to-date medical and surgical treatments for injuries that sideline any level of athlete. The Bone and Joint Center at St. Elizabeth's is one of the few in the country to use less-invasive arthroscopic surgery techniques to repair shoulder rotator cuff injuries. It also uses state-of-the-art arthroscopic surgical techniques to repair anterior cruciate ligament (ACL) knee injuries.
St. Elizabeth's Medical Center recently welcomed Thomas Gill, MD, as Chairman of its Orthopedic Department. Dr. Gill has served as medical director for the Boston Red Sox, head team physician for the New England Patriots and team physician for the Boston Bruins. He is a fellow of the American Association of Orthopedic Surgeons; a member of the American Orthopedic Society for Sports Medicine; former member of the Team Physician Societies of Major League Baseball, the National Football League, and the National Hockey League; and was elected to the Herodicus Society (National Honor Society for Sports Medicine) and the American Orthopedic Association. Dr. Gill has authored more than 160 scientific articles and chapters on issues involving the knee and shoulder, and has previously written books on complications of shoulder surgery and techniques of knee arthroscopy.
A graduate of Harvard Medical School, Dr. Gill completed his residency at the Harvard Orthopaedics Combined Residency Program. He completed a fellowship in reconstructive surgery in Bern, Switzerland and a fellowship in sports medicine and shoulder surgery at the Steadman-Hawkins Clinic in Vail, Colorado.
Dr. Gill specializes in ACL surgery/knee arthroscopy, sports medicine injuries, rotator cuff surgery and labral repair surgery.