Visitor Policy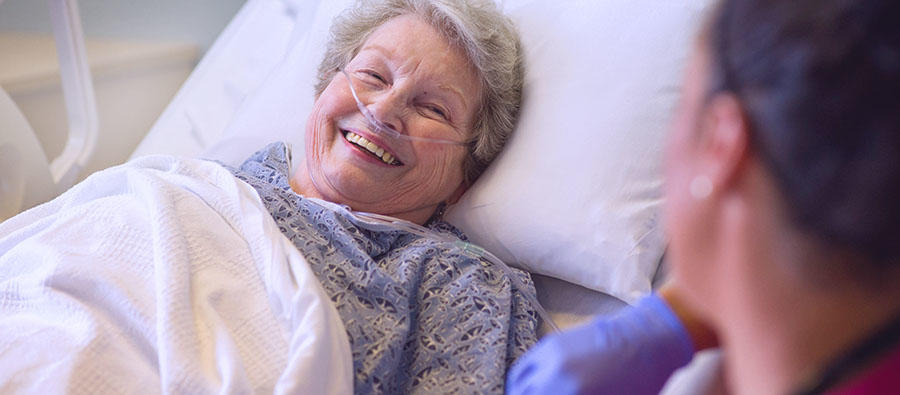 St. Elizabeth's Medical Center recognizes the important role that visitors play in the care of hospitalized patients and we make every effort to allow visitors without restriction. You as the patient, and/or your designated support person have the right to accept or decline visitors. All are welcome to visit as long as no restrictions are in place. You may withdraw consent for visitors at any time during your stay.
Visitor Policy
Visitors may be limited or restricted only when visitation would interfere with the care of the patient and/or the care of other patients.
The following are example of circumstances that could result in the hospital imposing restrictions or limiting visitors:
A court order limiting or restraining contact
Behavior presenting a direct risk or threat to a patient
Behavior disruptive of the functioning of the patient care unit
Reasonable limitations on the number of visitor at any one time
Patient's risk of infection by a visitor
Visitor's risk of infection by the patient
Extraordinary protections because of pandemic or infectious disease outbreak
Substance abuse treatment protocols requiring restricted visitation
Patient's need for privacy and rest
Need for privacy and rest by another individual(s) sharing the room
Please ask your nurse or doctor about any visitation restrictions that may apply during your visit.
Regulations and Amenities
Visiting Hours
Visits from family and loved ones can enhance your recovery and experience at St. Elizabeth's Medical Center. We make every effort to accommodate visits from healthy family and loved ones. Please respect the following while visiting patients:
Children must be accompanied by an adult at all time.
If you aren't feeling well and/or have a cough/cold, please restrict your visit so as not to infect patients and other visitors
Visitor's Health
Please do not visit if you are feeling ill or have a contagious disease. When you visit your loved one, please wash or sanitize your hands before and after your visit to promote a healthy environment.
Gifts for Patients
To assist guests and staff with allergies, please do not bring latex (rubber) balloons. Mylar balloons are permitted. Before bringing a gift of food or drink, please ask the patient's care provider if there are any dietary restrictions to follow.
Dining Room
Patients and visitors are welcome to use the dining room located on Seton 4. The Dining Room is open Monday through Friday, 6:30 a.m. to 7 p.m. and 6:30 a.m. to 6:30 p.m. Saturday, Sunday and holidays.  Food and Nutrition Services offers fresh vended food for your after-hour needs, along with a microwave. Vending machines are located outside the Dining Room, as well as other locations throughout the campus for your convenience. Questions, concerns and suggestions may be made by calling the director of nutrition and food services.
Dunkin' Donuts
Dunkin' Donuts is located on Seton 4 next to the gift shop. Hours of operation are posted.
Gift Shop
A gift shop is available for patients and visitors on Seton 4. A wide variety of items are offered, including cards, books and magazines, fresh flowers, religious articles, gifts, cosmetics, baby clothe, and accessories. Proceeds from sales benefit patient care programs.
Gift Shop Hours:
Monday through Friday: 8:30 a.m. - 8 p.m.
Saturday and Sunday: 9 a.m. - 8 p.m.