The Sports Medicine Clinics at St. Elizabeth's Medical Center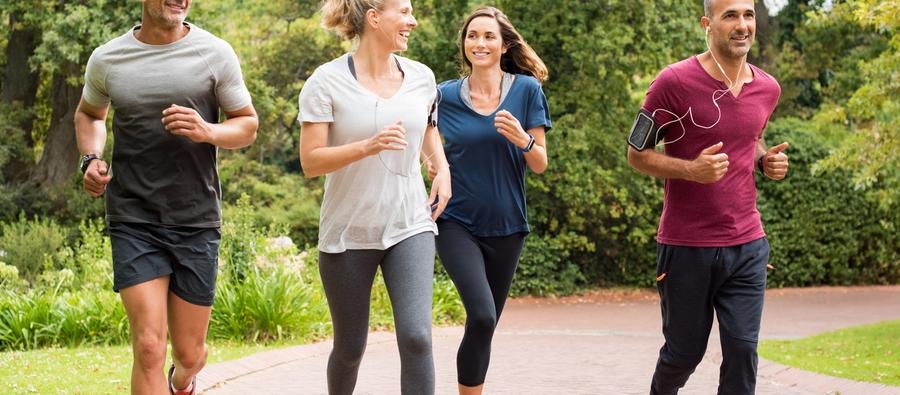 The Sports Medicine Clinics at St. Elizabeth's Medical Center
St. Elizabeth's Sports Medicine Clinics offer non-surgical therapy for orthopedic injuries and illnesses related to sports or chronic overuse. We:
Care for adults, adolescents and children
Operate as part of the multidisciplinary Bone and Joint Center, providing new and established therapies to help restore our patients to their best quality of life
Our programs include:
About Jennifer Luz, MD
The sports medicine program is led by Jennifer Luz, MD, and focuses first on nonoperative orthopedics.
Dr. Luz works within the integrated Bone and Joint Center where patients have access to world-renowned physicians to address individual treatment plans.
Dr. Luz is the team physician for Boston Ballet, the Boston Breakers, and Boston Cannons. 
She is fellowship trained in primary care sports medicine. Dr. Luz takes a non-surgical approach to the treatment of musculoskeletal sports conditions. She works closely with her surgical colleagues and focuses on treating the whole patient to prevent injury, improve performance and enhance overall health for child and adult athletes of all skill levels.
A graduate of Tufts University School of Medicine, Dr. Luz completed her physiatry residency training at Spaulding Rehabilitation Hospital/Harvard Medical School, and her sports medicine fellowship at Boston Children's Hospital/Harvard Medical School. She is a Clinical Instructor of Orthopedics at Tufts University School of Medicine.
Conditions Treated
General Sports  Medicine
Pediatric Sports Medicine
Spine

Sports Ultrasound diagnosis/intervention
Platelet Rich Plasma (PRP), cortisone injection, aspiration, prolotherapy
Sports Rehabilitation
Team physician
Exercise physiology, sports biomechanics, training technique
Pre-participation Physical Exam
Runner's injury/gait analysis
Concussion

Little Leaguer's Shoulder, Elbow
Osgood-Schlatters disease
Sever's disease
Patellofemoral syndrome/ Runner's knee
Osteochondrosis and osteochondritis dissecans (OCD)
Salter-Harris Fracture
Gymnast's Wrist
Spondylolysis/ spondylolisthesis
Concussion

Back pain
Spondylolysis/listhesis
Radiculopathy
Facet syndrome
Sacroiliac (SI) joint dysfunction
Cervicalgia, cervical radiculopathy
Occipital neuralgia
Ultrasound-guided injection, excepting ESI

Shoulder
Elbow
Hand/Wrist

AC joint injury
Shoulder instability, dislocation
Multidirectional instability
Biceps tendon injury
Rotator cuff injury
Frozen shoulder/Adhesive Capsulitis
Calcific tendonitis
Glenoid Labral tears
Throwers shoulder
Internal/External impingement
Suprascapular neuropathy

Ulnar Collateral Ligament Injury
Epicondylitis, Tennis/Golfer's Elbow
Bursitis
Valgus Extension Overload/ Pitcher's Elbow

Carpal Tunnel Syndrome
TFCC injury
Gymnast's wrist
Ganglion cysts
DeQuervain's tenosynovitis

Hip
Knee
Leg/Ankle/Foot

Osteoarthritis
Avulsion injury/fracture
Traction apophysitis
Osteitis pubis
Acetabular labral tears
Femoral Acetabular Impingement (FAI)
Slipped Capital Femoral Epiphysis (SCFE)
IT band syndrome
Snapping Hip
Adductor strain, Athletic pubalgia/Sports Hernia
Greater Trochanteric Bursitis/Pain Syndrome
Piriformis Syndrome
Hamstring injury
Sacroiliac Joint Pain

ACL/PCL injury
Collateral ligament injury
Meniscal tear
Bursitis
Patellofemoral Pain Syndrome
IT band syndrome
Jumper's knee/ patellar tendonitis
Fat pad impingement
Osteoarthritis
Patellar dislocation/ subluxation
OCD, osteochondritis dissicans

Medial Tibial Stress Syndrome/ Shin splints
Chronic Exertional Compartment Syndrome
Stress Fracture
Achilles tendonitis/ tendinopathy
Ankle sprain
Syndesmotic injury/ High ankle sprain
Lisfranc Joint injury
Turf Toe/First MTP joint injury
Bursitis
Metatarsalgia
Morton's Neuroma
Stress Fracture
Jone's Fracture, Dancer's fracture