The Boston Liver, Pancreas and Biliary Center's expert multidisciplinary hepato-pancreato-biliary (HPB) cancer care team strives to ensure the best outcomes for patients.
The Boston Liver, Pancreas and Biliary Center at St. Elizabeth's Medical Center brings the latest and most advanced treatments in the world to patients with liver and pancreas cancer or metastatic colorectal cancer. Working in close collaboration with the Dana-Farber Cancer Institute onsite at St. Elizabeth's, the multidisciplinary group of world-renowned experts is the only team in Boston that offers cutting edge surgical procedures such as laparoscopic, Whipple, advanced robotic liver and pancreas cancer surgery, as well as novel integrated immunologic treatments.
The team is led by surgical oncologist Claudius Conrad, MD, PhD, FACS, and ensures the best possible outcomes for our patients. Our team treats all hepato-pancreato-biliary cancers, including:
Tumors of the liver and pancreas
Bile duct cancer (cholangiocarcinoma)
Gallbladder cancer
Duodenal Cancer
Neuroendocrine tumors
Pancreas cancer
Pancreatic cysts
Splenic conditions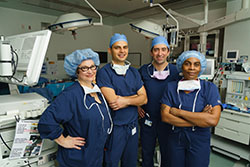 Dr. Conrad works closely with a collaborative care team, which includes medical oncologists, interventional radiologists, radiologists, gastroenterologists, endocrinologists, and nurses to develop individualized treatment plans for patients and their families. Patients also have access to the center's dedicated team of medical assistants, nutritionists, pathologists, rehabilitation specialists, and social workers to ensure the best possible care.
Surgical treatment options vary depending on a patient's course of treatment, with minimal trauma and laparoscopic/robotic-assisted approaches whenever possible.
Procedures include:
Liver resections
Pancreas resection, including Whipple procedure, Central and Distal Pancreatectomy and Enucleation
Bile duct resections
 
About Claudius Conrad, MD, PhD, FACS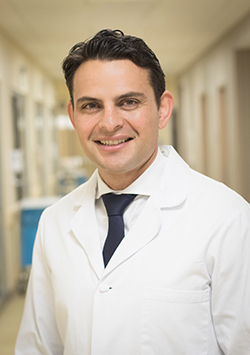 Dr. Conrad is the chief of General Surgery and Surgical Oncology, and director of Hepato-Pancreato-Biliary Surgery at St. Elizabeth's Medical Center. In this role, he brings his expertise in the treatment of hepato-pancreato-biliary cancers to patients throughout the Steward Health Care system.
Prior to joining St. Elizabeth's medical staff, Dr. Conrad worked at MD Anderson Cancer Center in Houston, Texas. He earned his medical degree at the University of Munich and Harvard Medical School, after which he completed a residency in general surgery at Massachusetts General Hospital in Boston followed by fellowships at Dana-Farber/Partners CancerCare, the Institut Mutualist Montsouris in Paris and University of Tokyo. 
Board certified in general surgery and general complex surgical oncology as well as fellowship trained in minimally invasive hepato-pancreato-biliary surgery, Dr. Conrad also brings a robust research program to facilitate clinical innovations, specifically in understanding cancer biology and using music to complement holistic healing of patients. As a classically trained and accomplished concert pianist, he co-founded the field of clinical research on the science of music in medicine.