About Neuroendocrine Tumors
Neuroendocrine tumors are cancers that form in neuroendocrine cells, which are similar to nerve cells, but they also produce hormones. They can be found in almost every organ of the body. Neuroendocrine cancer is rare, with fewer than 200,000 cases per year.
There are many types of neuroendocrine tumors, including carcinoid tumors, which usually occur in the lungs, appendix, small intestine, rectum and pancreas. Carcinoid tumors are slow-growing, while other types of neuroendocrine tumors grow very quickly. Neuroendocrine tumors are unpredictable as some produce excess hormones, while others may not release hormones at all, or may release negligible amounts that do not cause symptoms.
The risk of neuroendocrine tumors is higher in people who inherit specific genetic syndromes that increase the risk of cancer. Learn more about Genetics Testing at St. Elizabeth's Medical Center. 
 
Symptoms of Neuroendocrine Cancer
Neuroendocrine tumors may not cause symptoms right away. If you start to experience symptoms, they may vary depending on the location of the tumor in the body and whether it produces excess hormones.
Signs and symptoms of neuroendocrine cancer includes:
-    Pain
-    A lump you can feel under the skin
-    Fatigue
-    Weight loss
Neuroendocrine tumors that produce excess hormones can include the following symptoms:
-    Flushed skin
-    Diarrhea
-    Frequent urination
-    Increased thirst
-    Dizziness
-    Shakiness
-    Skin rash
We recommend that you see your doctor if new symptoms persist and become worrisome or bothersome.
Diagnosis and Treatment for Neuroendocrine Cancer 
Our multidisciplinary team in the Boston Liver, Pancreas and Biliary Center offers the most advanced diagnosis and treatment for patients with neuroendocrine tumors. Our specialists work in close partnership with colleagues at Dana-Farber Cancer Institute to provide world-renowned care on-site at St. Elizabeth's Medical Center.
Diagnosis
Similar to other types of cancer, your doctor will run certain tests to look for evidence of cancer. These can include a physical exam, as well as a blood or urine tests to look for excess hormones. If cancer is suspected, patients may receive imaging tests, like an ultrasound, MRI or CT scan to get a clear look at the tumor. Your doctor may also perform a biopsy to collect tumor cells, which would be tested for cancer in our pathology lab.
Treatment for Tumors
The benefits of receiving treatment for neuroendocrine tumors at our Center is that   our multidisciplinary team of oncologists, radiologists, gastroenterologists, pathologists and endocrinologists meet regularly to discuss the best course of action for our patients' treatment plans. Because neuroendocrine tumors can essentially occur anywhere the in the body, we will partner with our colleagues from all appropriate medical or surgical specialties within St. Elizabeth's to offer you the most advanced treatment options for your type of cancer.
Treatment options may include: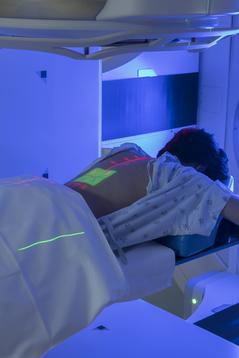 Surgery: Surgeons will remove as much of the tumor as possible, along with some surrounding healthy tissue. Sometimes, due to the location or the complexity, the entire tumor cannot be removed.
Chemotherapy: Chemotherapy, which uses strong drugs to kill the tumor, can be given in the form of a pill or intravenously in your arm. Chemotherapy is often given if doctors think there is a chance your tumor may return after surgery, or for advanced tumors that can't be surgically removed. 
Targeted drug therapy: Targeted drug therapy focuses on abnormalities within tumor cells. Delivering drugs directly to the abnormalities can cause tumor cells to die. Targeted drug treatments are usually given along with chemotherapy for advanced tumors.
Medications: If your neuroendocrine tumor releases excess hormones, your doctor may prescribe medications to help control the symptoms of your tumor.
Radiation therapy: Some types of neuroendocrine tumors may be treated with radiation. It might be an option if surgery isn't.
Other treatments, including clinical trials, may be available depending upon your type of neuroendocrine tumor. We encourage you to speak openly with your physicians about all treatment plans and any questions you may have. 
 
Recent Research
Vega EA, Kutlu OC, Alarcon SV, Salehi O, Kazakova V, Kozyreva O, Chan JA, Conrad C. Clinical Prognosticators of Metastatic Potential in Patients with Small Pancreatic Neuroendocrine Tumors. J Gastrointest Surg. 2021 Mar 3. doi: 10.1007/s11605-021-04946-x. Epub ahead of print. PMID: 33660111.
Cloyd JM, Omichi K, Mizuno T, Kawaguchi Y, Tzeng CD, Conrad C, Chun YS, Aloia TA, Katz MHG, Lee JE, Halperin D, Yao J, Vauthey JN, Dasari A. Preoperative Fluorouracil, Doxorubicin, and Streptozocin for the Treatment of Pancreatic Neuroendocrine Liver Metastases. Ann Surg Oncol. 2018 Jun;25(6):1709-1715. doi: 10.1245/s10434-018-6468-8. Epub 2018 Apr 6. PMID: 29626307; PMCID: PMC5930114.
Mehrvarz Sarshekeh A, Advani S, Halperin DM, Conrad C, Shen C, Yao JC, Dasari A. Regional lymph node involvement and outcomes in appendiceal neuroendocrine tumors: a SEER database analysis. Oncotarget. 2017 Aug 19;8(59):99541-99551. doi: 10.18632/oncotarget.20362. PMID: 29245922; PMCID: PMC5725113.
Conrad C, Passot G, Katz MH, Fleming JB, Kim M, Chun YS, Aloia TA, Vauthey JN, Lee JE. Laparoscopic Insulinoma Enucleation from the Retro-Pancreatic Neck: A Stepwise Approach. Ann Surg Oncol. 2016 Jun;23(6):2001. doi: 10.1245/s10434-016-5106-6. Epub 2016 Mar 9. PMID: 26960928.
Conrad C, Schwarz L, Perrier N, Fleming JB, Katz MH, Aloia TA, Vauthey JN, Lee JE. Spleen and splenic vessel preserving distal pancreatectomy for bifocal PNET in a young patient with MEN1. Surg Endosc. 2016 Oct;30(10):4619. doi: 10.1007/s00464-015-4734-4. Epub 2015 Dec 31. PMID: 26721691.