What is Duodenal Cancer?
Duodenal cancer is a rare but aggressive cancer that develops in gastrointestinal system, specifically in the duodenum, which is a part of the small intestine, sometimes referred to as the bowel. This is where the contents of the stomach enter the colon and rectum, or the lower digestive track.
Duodenal cancer is an extremely rare disease and its exact causes have not yet been discovered. Similar to other cancers, risk factors for this type of cancer can be tied to age, genetics, diet, smoking and alcohol consumption and duodenal growths, or non-cancerous tumors. Other gastrointestinal diseases such as Crohn's disease, inflammatory bowel disease or celiac disease could contribute to the development of cancer in the duodenum.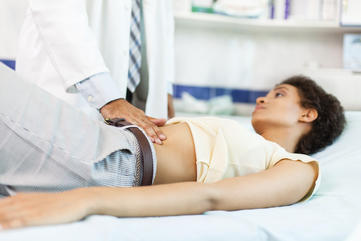 Symptoms
Signs of duodenal cancer are often vague and similar to those of other diseases or conditions. They may include:
Stomach pain
Weight loss
Lump in the abdomen
Blood in the stool
Nausea and vomiting
Tiredness
Weakness
If you develop stomach pain that doesn't seem to go away or any other new symptoms, we encourage you to speak with your primary care physician.
Risk Factors for Developing Duodenal Cancer
Anything that can affect the risk of developing a health condition is called a risk factor. But having risk factors doesn't necessarily mean that you will get cancer.  In most cases with different types of cancer, healthy history, diet and lifestyle play a large role in the chance of developing cancer.
Some of the risk factors for duodenal cancer can include:
Eating a high fat diet
Having a history of Crohn's disease, celiac disease or familial adenomatous polyposis (FAP), which is a rare genetic defect
Diagnosis and Treatment of Duodenal Cancer and Tumors
When you receive care at the Boston Liver, Pancreas and Biliary Center at St. Elizabeth's, you can rest assured you are receiving the best diagnosis and treatment for your cancer. Our team has special expertise in caring for patients with gastrointestinal cancers and other complex diseases that occur in the stomach.
Diagnosis
Before our team can recommend treatment, we need to determine the type of cancer and whether it can be removed by having surgery. You will have tests and/or procedures that will help your care team answer these questions. The following tests and procedures may be performed:
Physical exam and health history: Your doctor will perform an examination and ask you questions about your health, diet and lifestyle and health history. You will likely also be asked to visit our lab to have blood taken so that we can test, among other things, your liver function. If you have a higher than normal measurement of a certain substance in your blood, it could be a sign of liver disease caused by duodenal cancer.
Endoscopy: There are multiple types of endoscopy but the most common is a procedure where your doctor places a tube with a camera on the end of it down your throat and into your stomach to view and take pictures of your small intestine. You may also receive a series of x-rays or a CT scan to look for blockages and check for other issues. 
Imaging: CT scans or MRIs can provide your team with detailed pictures of areas inside the body. 
After these tests, your doctor will speak with you about the type of cancer and its stage, or how much the cancer may have spread.
Cancer Treatment
Surgery is typically the main way to treat duodenal cancer. Our gastrointestinal surgeons may be able to resect, or remove part of the duodenum. Or for more complex cancers, they may recommend a Whipple procedure, which removes the head of the pancreas, the duodenum, the gallbladder and the bile duct.  Neither procedure typically causes any long-term issues with eating or drinking, although immediately after surgery and sometimes for a few weeks, you may be asked to follow a special diet.
Maintaining Good Health
There are no ways to prevent duodenal cancer, but like most diseases, you can take certain steps to lower your risk. This includes:
Eating a healthy diet of fruits, vegetables and whole grains.
Exercising and keeping a healthy weight
Considering surgery if you have an inherited condition that causes growths in the duodenum. Proactively removing that part of the small intestine may protect against cancer.
Talk to your doctor about the best plan for you.
Recent Research
Vega EA, Salehi O, Nicolaescu DC, Krishnan S, Alarcon SV, Kozyreva O, Kondratiev S, Vellayappan U, Asbun HJ, Conrad C. Laparoscopic Pancreatic Head Preserving Total Duodenectomy: The Parenchymal Sparing Alternative to a Whipple. Ann Surg Oncol. 2021 Jan;28(1):131-132. doi: 10.1245/s10434-020-08715-z. Epub 2020 Jun 14. PMID: 32535871.
Vega EA, Asbun HJ, Conrad C. ASO Author Reflections: Laparoscopic Pancreatic Head Preserving Total Duodenectomy-You Can Eat Your Cake and Have it Too. Ann Surg Oncol. 2020 Dec;27(Suppl 3):816-817. doi: 10.1245/s10434-020-08807-w. Epub 2020 Jul 11. PMID: 32651699.
Yamashita S, Overman MJ, Wang H, Zhao J, Okuno M, Goumard C, Tzeng CW, Kim M, Fleming JB, Vauthey JN, Katz MH, Lee JE, Conrad C. Pathologic Response to Preoperative Therapy as a Novel Prognosticator for Ampullary and Duodenal Adenocarcinoma. Ann Surg Oncol. 2017 Dec;24(13):3954-3963. doi: 10.1245/s10434-017-6098-6. Epub 2017 Oct 4. PMID: 28980211; PMCID: PMC6039188.