Maternity Services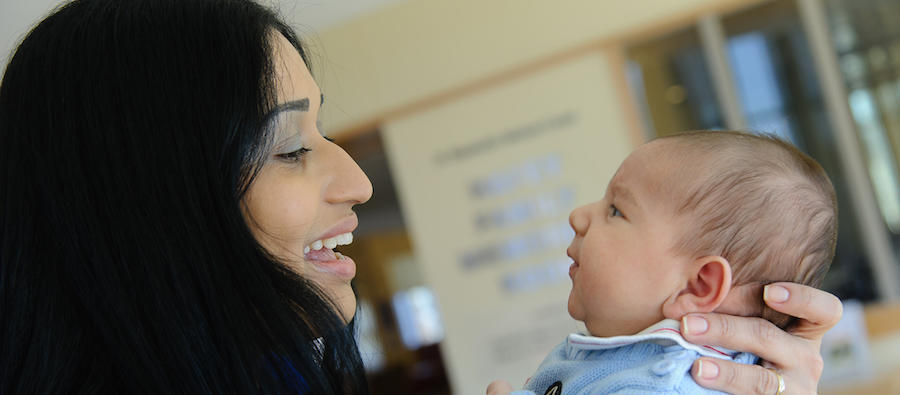 We are here to help you find what you need.
The St. Margaret's Center for Women and Infants at St. Elizabeth's Medical Center offers an intimate, personalized birth experience with expert doctors, nurse midwives, and nurses.
Welcome to Brighton's Best Option for Maternity Care!
Services range from routine to the most advanced treatment of complications and may include collaboration with on-site sub-specialists in high-risk obstetrics and gynecologic oncology.
Nurse-Midwife Practice
St. Elizabeth's Medical Center offers women – beginning in the teenage years through menopause and beyond – the option of choosing a nurse-midwife for their gynecologic and obstetric care, including annual pelvic and breast exams, preconception counseling, prenatal care, postpartum care, and breastfeeding support.
Neonatal Care (NICU)
The level III Neonatal Intensive Care Unit (NICU) at St. Elizabeth's Medical Center is one of only a handful of units in Boston that provide the most advanced care and technology for premature and critically ill newborns. St. Elizabeth's Medical Center offers world-class care for newborns through a clinical collaboration with MassGeneral Hospital for Children a nationally recognized leader in comprehensive newborn medicine. The NICU is staffed 24/7 by MassGeneral Hospital for Children physicians.

High-Risk Obstetrics and Antepartum Care
The high-risk obstetrics group (maternal fetal medicine) at St. Elizabeth's Medical Center focuses on helping women through challenging pregnancies by providing the most advanced level of specialized medical care and services.
Treatment methods include:
Management of medical and obstetrical complications
Maternal intensive care, including management of severe maternal medical disease, such as previous organ transplantation, lupus, cardiac disease, hypertension, or severe diabetes
Management of multiple gestation, anomalies, intrauterine growth retardation, premature labor and delivery, previous Cesarean section, and pregnancies achieved through assisted reproductive technology
History of mid-trimester loss, cervical incompetence and DES exposure
Fetal blood transfusions
Fetal therapy, including medical and surgical interventions of fetal abnormalities
 
In addition, St. Elizabeth's offers some of the regions most advanced prenatal diagnosis, screenings and treatments, including:
Alpha-fetoprotein screening
Amniocentesis
Biophysical profiles
Doppler flow studies
Genetic counseling
Non-invasive screening, including PAPPA-A and NT
Non-stress testing
Percutaneous umbilical blood sampling (PUBS)
Targeted (Level II) ultrasound
Breastfeeding Services
St. Elizabeth's Medical Center offers a team of breastfeeding experts to all mothers who deliver at the medical center. Our nursing staff and a lactation consultant are available as you begin to breastfeed, which benefits mother and baby. Ask your nurse for information about scheduling a consultation. 
Patient Resources:
During Pregnancy
Tests & Procedures
Childbirth & Your Newborn