Radiation Oncology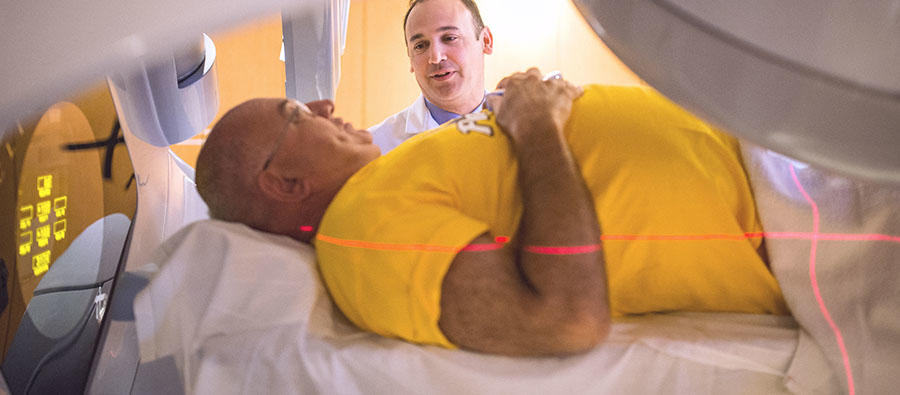 We are here to help you find what you need.
St. Elizabeth's Radiation Oncology Center provides patients and families with the latest cancer therapy technologies along with enhanced comfort and convenience.
Our 10,500-square-foot Radiation Oncology Center, opened in 2011, offers a state-of-the-art image-guided radiation therapy technology and wide-bore CT scanner, which effectively plan and administer the most targeted radiation therapy while reducing treatment time.
Each patient's treatment plan is unique and may involve other treatments such as surgery or chemotherapy administered at the Dana-Farber Cancer Institute at St. Elizabeth's Medical Center. Your physicians at St. Elizabeth's work closely together with all members of a patient's care team, to ensure the treatment plan is reflective of the individual needs of each patient.
St. Elizabeth's is among the first in the region to offer stereotactic body radiation therapy (SBRT), which offers more precise radiation for cancers that are difficult to treat and also a stereotactic radiosurgery (SRS) program to treat small brain tumors.
Our Team
Shiran Shioshani
Radiation Oncology
Resources
American Cancer Society

American Cancer Society (ACS) maintains a database of additional support programs and services provided in your local community. Visit ACS to search for support programs by city/town, state, or zip code.

Cancer.net

Cancer.Net™ brings the expertise and resources of the American Society of Clinical Oncology (ASCO), the voice of the world's cancer physicians, to people living with cancer and those who care for and care about them. ASCO is composed of nearly 30,000 oncologists globally who are the leaders in advancing cancer care. All the information and content on Cancer.Net was developed and approved by the cancer doctors who are members of ASCO, making Cancer.Net an up-to-date and trusted resource for cancer information.

Cancer Program Annual Report

Cancer Program and Cancer Registry Prepared by the Cancer Care Committee for 2014 - 2015.