Robotic Surgery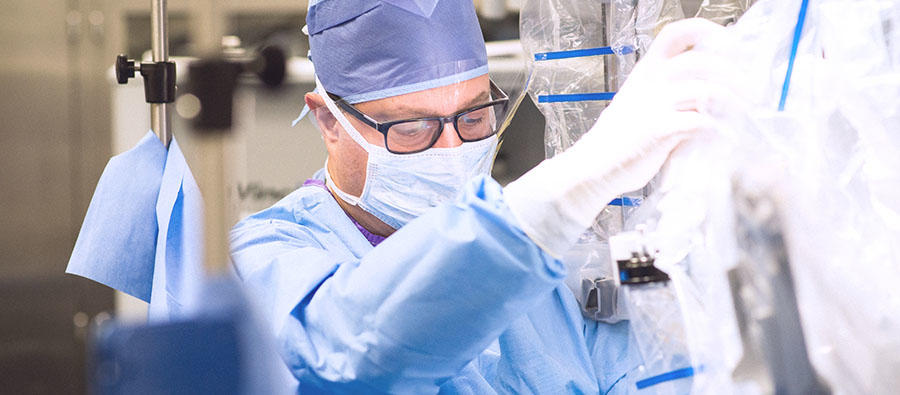 We are here to help you find what you need.
If you or a loved one has been diagnosed with a condition that may require surgery, you owe it to yourself to learn about all of your medical options, including the most effective, least invasive surgical treatments available.
Robotic Surgery at St. Elizabeth's
Robotic-assisted surgery options can result in less pain, faster recovery times, and a quicker return to work and everyday activities. Robotic surgeons use state-of-the-art systems designed to help perform a more precise, less invasive procedure. Compared to traditional surgery, minimally invasive techniques can offer numerous potential benefits for most patients.
Benefits of robotic-assisted surgery can include:
Faster recovery and shorter hospital stay
Fewer stitches and less scarring
Lower risk of complications and infections
Less blood loss and the need for transfusions
Quicker return to normal activities
At St. Elizabeth's, we offer a robust robotic surgery program and use robotic-assisted surgery for the treatment of gynecological conditions, lung cancer, as well as several cardiac conditions. Urologic robotic surgeries are performed to treat kidney disorders, and prostate, kidney and bladder cancers.
Learn more about our robotic surgery programs:
Resources
Robotic-assisted Surgery for Gynecologic Cancer

Jennifer B., of Brockton, Massachusetts, first thought that her pelvic pain and irregular menstrual cycles were stress related. She decided to see her doctor when the discomfort did not subside. On December 8, 2009, the 39 year old was diagnosed with endometrial cancer, a common cancer that forms in the tissue lining of the uterus. Hear her story.