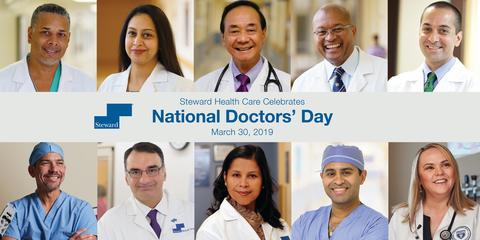 Convenient appointment scheduling is available 24/7
BRIGHTON, MASSACHUSETTS - Doctors' Day is on Saturday, March 30 and many around the nation will pause to honor the contributions physicians make. While the U.S. is facing a shortage of primary care doctors, Steward Medical Group has introduced online appointment booking to help make the access to primary care as easy as possible for patients.
Steward Medical Group has partnered with Tennessee-based InQuicker to provide a convenient approach to scheduling doctors' appointments for patients. Making an appointment is simple and secure: Patients can go to www.stewardmedicalgroup.org and select the "Make an Appointment" button. A list of physicians nearest to the patient will present on the website and patients can then book a date and time with their selected doctor. The patient will then receive a confirmation email with the time, date, and location of their appointment.
"Innovation is one of the hallmarks of Steward and we are committed to continually finding new ways for patients to have access to primary care doctors," said Sanjay Shetty, MD, president of Steward Medical Group. "As we celebrate Doctor's Day, it's important to recognize the role our primary care physicians play in helping our patients enjoy their best health and highest quality of life."
A report issued last year by the Association of American Medical Colleges estimates a projected shortfall of 14,800 to 49,300 primary care physicians by 2030. Given those estimates, access to care is critical and Steward Medical Group has incorporated technology to ensure patients can make the appointments they need, at their convenience.
Booking a primary care appointment online is available in the Allston, Boston, Brighton, Brookline, Newton, Waltham, Watertown and Weston communities. Primary care physicians affiliated with St. Elizabeth's Medical Center who offer online booking can be found here: https://bit.ly/2HZ1esQ.
About St. Elizabeth's Medical Center
St. Elizabeth's Medical Center is a major academic medical center affiliated with Tufts University School of Medicine.  Areas of medical excellence include liver and pancreas surgery, vascular and endovascular surgery, cardiology, neurosciences, general and robotic surgery, bariatric surgery, women's health, high-risk obstetrics, bone and joint health, hematology/oncology, pulmonary medicine and emergency medicine.  St. Elizabeth's is a member of Steward Health Care. Visit St. Elizabeth's online at www.semc.org.
About Steward Health Care
Steward Health Care is the nation's largest private, tax paying physician-led health care network in the United States. Headquartered in Dallas, Texas, Steward operates 36 hospitals in the United States and the country of Malta that regularly receive top awards for quality and safety. The company employs approximately 42,000 health care professionals. The Steward network includes multiple urgent care centers and skilled nursing facilities, substantial behavioral health services, over 7,900 beds under management, and approximately 2.2 million full risk covered lives through the company's