St. Elizabeth's Medical Center Welcomes Chief of Orthopedic Trauma Hans Van Lancker, MD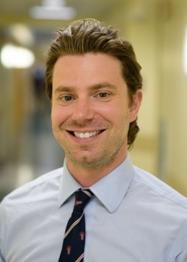 BRIGHTON – Aug. 2, 2016 – St. Elizabeth's Medical Center is pleased to welcome Hans Van Lancker, MD, FRCSC, as the Chief of Orthopedic Trauma. Dr. Van Lancker is an accomplished surgeon with experience at two Level I trauma centers as well as a teacher and researcher.
As the Chief of Orthopedic Trauma, Dr. Van Lancker will oversee the evaluation and management of all fractures, including fractures which have not healed properly (malunions, non-unions) and orthopedic trauma. He will help to develop St. Elizabeth's as a tertiary orthopedic trauma referral center for both the Steward Network, as well as our neighboring communities.
"I am excited to have a surgeon of Dr. Van Lancker's caliber joining our team at St. Elizabeth's Medical Center," said Tom Gill, MD, Chairman of the Department of Orthopedics. "The expertise he brings to patient care will be a tremendous asset for our patients and our network of physicians. Our goal is to help our patients heal with wonderful outcomes and get them back to their normal daily lives as soon as possible after suffering an injury."
Dr. Van Lancker completed the Harvard Orthopaedic Trauma fellowship at Massachusetts General Hospital and Brigham and Women's Hospital. During his fellowship, he served as a junior attending with an independent OR, clinic, teaching and research responsibilities at two Level I trauma centers. He completed his residency in orthopaedic surgery at the McGill University Health Centre in Montreal, Canada. He earned his medical degree from the Alpert Medical School at Brown University in Providence, Rhode Island where he was in an eight-year early acceptance combined medical and undergraduate program.
During his residency at McGill, Dr. Van Lancker was among the first recipients in Canada and in the field of Orthopedic Surgery to be selected as one of 10,000 Google Glass Explorers to beta test the new technology. A Fellow of the Royal College of Physicians and Surgeons of Canada, Dr. Van Lancker oversaw the annual player physicals and orthopaedic clinic treatment of the Montreal Canadians NHL Professional Hockey Team from 2010-2015. An accomplished sailor, he also served as the medical consult team member for the US Olympic Sailing Trials in 2007. Dr. Van Lancker has several patents pending and has been published numerous times.
"The addition of Dr. Van Lancker as our Chief of Orthopedic Trauma is another way in which St. Elizabeth's Medical Center continues to develop its programs and services to provide our patients and communities with the highest level of care possible," said Beth Hughes, President of St. Elizabeth's Medical Center.
The Department of Orthopedics at St. Elizabeth's can be reached by calling 617-779-6500 or for more information visit semc.org.
About St. Elizabeth's Medical Center
St. Elizabeth's Medical Center is a major academic medical center affiliated with Tufts University School of Medicine. Areas of medical excellence include vascular and endovascular surgery, cardiology and cardiac surgery, neurosciences, general and robotic surgery, bariatric surgery, women's health, high-risk obstetrics, bone and joint health, hematology/oncology, pulmonary medicine and emergency medicine. St. Elizabeth's has earned several recognitions including receiving an "A" patient safety rating from the Leapfrog Group and being recognized by Healthgrades as a distinguished hospital and one of America's 100 Best™ hospitals for cardiac care. St. Elizabeth's is a member of Steward Health Care, which is the second largest health care system in New England. Visit St. Elizabeth's online at www.semc.org.