Psychiatry Residency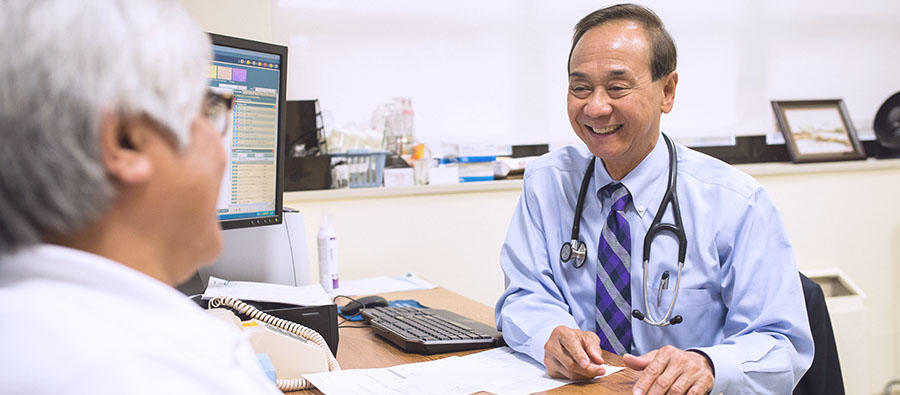 Overview
Welcome to the Department of Psychiatry residency training page at St. Elizabeth's Medical Center. We are committed to the highest standards of clinical care and education. Because psychiatry is a complex, rapidly developing specialty, the program seeks to graduate doctors with the understanding and clinical skills needed for the practice of general psychiatry. The program teaches residents to formulate cases based on the Perspectives of Psychiatry model. The psychiatry residency training is a four-year ACGME-accredited program with a total of 20 residents. The small department ensures a family-like atmosphere where every resident and faculty member is a valued member of the team.
Benefits
Competitive stipends

Clinical appointment through Tufts University School of Medicine

20 paid vacation / personal days per year

Health Insurance (low cost option available)

Dental Insurance

Malpractice Insurance

Group rates on elective coverage (auto, home, etc.)

Flexible spending account and tax-sheltered annuity options

Employee Assistance Program

Private office during PGY3 and PGY4 years

Massachusetts Medical Society membership

White coats each year

Access to Tufts library and online library resources

On-call meal allowance

Employee discounts on cell phone service

Subsidized subway / bus pass
Additional Information
Orientation
Following the mandatory hospital orientation in June, interns participate in a departmental orientation where they meet with nurse managers, social workers, occupational therapists, admissions coordinators, and other members of the interprofessional teams in the department. They also learn from faculty and senior residents about expectations on call and how to survive the intern year.
Supervision
PGY3 residents have supervision in psychodynamic psychotherapy and cognitive behavioral therapy each week. Most residents are assigned to work with clinical psychologists from outside the hospital who have extensive experience supervising residents and other trainees. PGY4 residents are also assigned a supervisor to review psychotherapy cases. PGY1 and PGY2 residents have supervision in a group format as well as from the attending physician on the service where they are rotating.
Research
Residents are encouraged to pursue scholarly activities including case reports, surveys, and poster presentations. PGY4 residents are required to complete a scholarly project, which may involve original research but can be met in other ways as well. Residents also participate in quality improvement projects to ensure that they provide optimal care. Residents are encouraged to present at the annual hospital Research Day as well as other venues.
Teaching
Residents have an opportunity to teach medical students and physician assistant (PA) students. Tufts University School of Medicine and Boston University School of Medicine medical students complete their third year clerkship and PA students from Northeastern University and MCPHS University complete their psychiatry rotation in the department. Residents may also choose to participate in a medical interviewing course for first year medical students from Tufts as team leaders. Residents are actively involved in supervising students on the inpatient and consult services. In addition, senior residents also have an opportunity to lead didactic sessions on core topics in psychiatry for interns and students. Instruction is provided on how to give feedback to students.
Training in Psychoanalysis
Although the program does not have a formal affiliation with the Boston Psychoanalytic Society and Institute (BPSI), many PGY4 residents choose to participate in their One Year Fellowship one evening per week to enhance their skills in psychoanalysis. Residents are responsible for the course tuition but may be eligible for a scholarship from BPSI.
Call Schedule
Two residents are on call together at all times to ensure that a single resident is not overwhelmed as well as to ensure the highest level of patient care. PGY1 residents cover 12 hour weekend and holiday shifts (Saturday or Sunday day or overnight) an average of 2 to 4 times per month. The exact number of calls varies based on coverage needs. PGY1 residents also spend two blocks on the night float service. PGY2 residents typically cover one 24 hour weekend shift, one 12 hour weekend shift, and 4 weeknights each month. The exact number of calls and frequency may vary in order to provide flexibility in scheduling vacations. PGY3 residents typically cover one 24 hour weekend shift and 2 weeknights each month. PGY4 residents are not scheduled to take call and may be asked to fill in only on rare occasions when additional coverage is needed. During the internal medicine rotation and emergency medicine rotations, interns are assigned to medicine call and are not included in the psychiatry call pool.
Vacation and Time Off
Residents may take 15 vacation days and 5 additional personal days per academic year (total of 20 working days). Residents are able to request vacation time in increments of no more than two weeks. Vacations are not assigned to allow as much flexibility as possible, within the constraints of coverage needs for the clinical services. Residents may request educational days to attend one conference each year or to take the USMLE examination. Residents are entitled to 12 paid sick days. Residents who require an extended leave of absence will generally need to make up missed time by extending their training period.
Contact for More Information: Stefanie Wong, MPH, Program Coordinator, [email protected]