Getting Started On Your Weight Loss Journey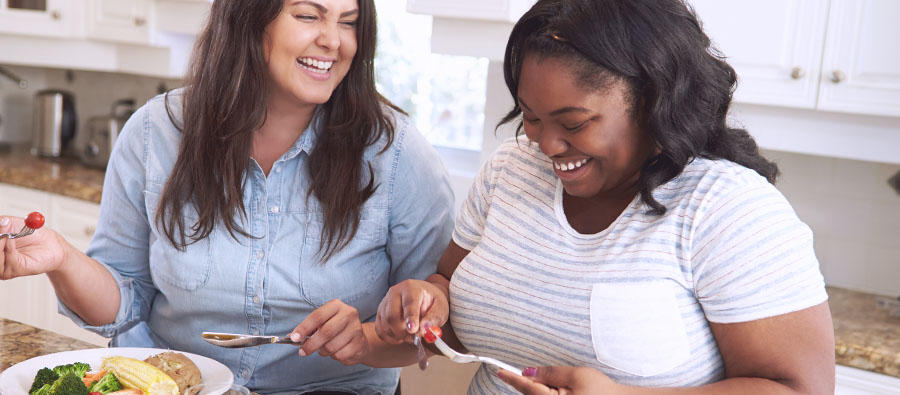 We are here to help you find what you need.
Thank you for your interest in the Steward Centers for Weight Control. We provide a multidisciplinary approach to assist you with your weight loss goals. To better serve you, please follow the guidelines below.
We see patients at the following locations:
St. Elizabeth's Medical Center: Brighton, Massachusetts
Good Samaritan Medical Center: Brockton, 

Massachusetts

Holy Family Hospital: Metheun, Massachusetts
Hawthorn Medical Associates: Dartmouth, Massachusetts
Prima CARE Medical Center: Fall River, Massachusetts
Preparing for Your Appointment
Calculate my Body Mass Index (BMI). Obesity is defined by Body Mass Index (BMI).

BMI is a measurement of body fat based off height and weight (kg) and is useful to determine overweight and obesity.

Being overweight and obese leads to a number of different chronic health conditions. Obesity related conditions include hypertension (high blood pressure), type 2 diabetes, high cholesterol, obstructive sleep apnea (OSA), arthritis, back pain, acid reflux, heart disease, stroke, increased risk for certain cancers and infertility.

BMI Ranges:

Underweight = 18.5 or less
Normal weight = 18.5-24.9
Overweight = 25-29.9
Moderate Obesity = 30-34.9
Severe Obesity = 35 to 35.9
Morbid Obesity = 40 or greater

 

Through both surgical and medical weight loss options, Steward Centers for Weight Control can help you lose weight, better manage these obesity related conditions and live a healthier life. 

Obtain a Referral

We are considered a specialty practice, and depending on your current insurance, a referral may be needed before the first visit – please call ahead to make sure your referral was received.

You can obtain a referral from your primary care physician (PCP). Please request 12 visits from your PCP.

Surgeon's name: Nicole Pecquex, NPI# 1467447300
Surgeon's name: Anthony McCluney, NPI# 1225107345
Nurse Practitioner: Megan Goulard, NPI# 1215342662
Nurse Practitioner: Cornelia Wakeman, NPI# 1528316130
Nurse Practitioner: Natasha Martin NPI#1235505660

 

Fax your referral

Please fax your referral and any tests done in the last year at another hospital or medical office such as stress test, echocardiogram, sleep study, endoscopy, CT scan, barium swallow, etc., to the appropriate hospital where your new patient appointment is scheduled. 

Fax numbers:

St. Elizabeth's Medical Center: 617-779-6999
Good Samaritan Medical Center: 508-427-3975
Holy Family Hospital: 978-659-6058
Hawthorn Medical: 617-779-6999
Prima CARE: 617-679-0912

 

Call Insurance Company

Insurance coverage varies widely. Before you come in for your first appointment, call your insurance company to make sure bariatric surgery is a covered service. Confirm coverage and limitation for nutrition and psychiatry visits, requirements for referrals, co-pays and/or deductibles and that St. Elizabeth's Medical Center in Brighton, Massachusetts, is in your insurance network.

Self-Pay Patients

If your insurance does not cover bariatric surgery and you are interested in becoming a self pay patient, please contact our practice manager at 617-562-7010. She can review current self pay rates and payment options.

Check Your Co-payment

If you have a co-pay, this is expected at the time of your appointment. There will be a separate co-pay for the surgeon and the dietitian. Cash, check and credit cards accepted (Visa, Mastercard, and Discover).

Watch our Online Webinar

We encourage you to watch our online webinar as it is designed to help you better understand which bariatric surgery option is right for you. It is not required. It takes approximately 30 minutes to complete. Please answer all the questions. If you are having trouble viewing this seminar, make sure your pop-up blocker is turned off. 
Book Your First Appointment
You have four options to choose from to book your first appointment.
Complete this Form and you will be contacted by front desk staff within two business days.
Watch the Online Webinar. After completion you will be contacted within two business days by front desk staff.
Call your preferred site and book an initial consult appointment.
Initial Consult Checklist
Now that you've booked your first appointment, to better serve you, we ask that you bring the following items to your first appointment at the Steward Center for Weight Control.
Your current insurance card
Your insurance co-payment: cash, check or credit card
Name and contact information for your primary care physician
Current medication list: name, dose, frequency
Be sure to call and verify with your insurance company and ask if there are any exclusions to bariatric surgery
It is your responsibility to obtain a referral to have an initial consultation as we are considered a specialty practice
Please arrive 30 minutes early to your appointment for parking considerations, weather and traffic.
Need to cancel or reschedule? Please call the office at:
St. Elizabeth Medical Center: 617-562-7474
Good Samaritan: 508-427-3990
Holy Family Hospital: 978-687-0156, ext. 2555
Hawthorn Medical Associates: 508-996-3991 (ask for the Center for the Weight Control)
Prima CARE: 508-672-0483
Directions
St. Elizabeth's Medical Center: Located on the campus of the St. Elizabeth's Medical Center, we are located in the hospital in the St. Margaret's Building, which is right next to Women's Health Center. Medical Office Building at 11 Nevins St. Suite 407, Brighton, MA 02135 (located next to the main lobby of the hospital). Park in Garage B or Valet
Good Samaritan Medical Center: Located on the campus of the Good Samaritan Medical Center, we are NOT located in the hospital. we are located in the brick Medical Office Building at 830 Oak St., Suite 222E, Brockton, MA 02301 (located directly behind the Emergency Department). Park in the lot in front of the Medical Office Building or in the Radiation Oncology parking lot the left of the Medical Office Building.
Holy Family Hospital: Located on the campus of the Holy Family Hospital, we are located in the hospital. Enter through the main entrance. If you haven't pre-registered first, go to the registration office of the front lobby. If you have pre-registered, please go directly to G3 (Ground 3) of the hospital. Park in the lot right in front of the main building.
Hawthorn Medical: 535 Faunce Corner Road, 2nd Level Entrance D, Dartmouth, MA 02747. Park in the lot in front of Entrance D.
Prima CARE: 227 Pleasant S., Building 1, Suite 202, Fall River, MA 02721. Park in front of Building 1 or Building 4
Congratulations on taking the first step in starting your new approach to life. We thank you for your interest in our program and we look forward to working with you to obtain your goals!
Resources
Transformations Event Video

Watch video from the 2015 Center for Weight Control Transformations Event that honors the hard work, courage and determination of patients who are on a weight loss journey. We love celebrating your successes!