Robotic Urology Testimonials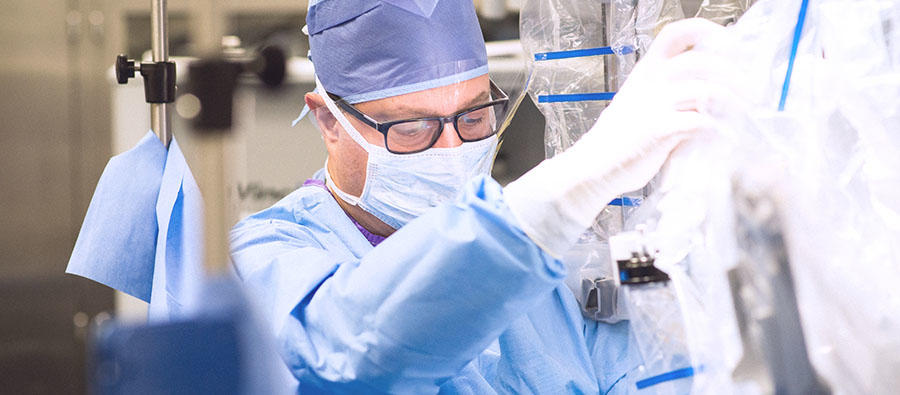 Howard H.
A first-ever physical at age 52 ends up being a lifesaver.
As someone who never felt the need to schedule routine doctor's appointments, Howard H., of Belfast, Maine, was sure glad he did in 2008.
"All my life I was very active and stayed physically fit," says Howard. "I really believed I would get through life without any need for doctors or hospitals, unless something unforeseen occurred."
At age 52, the unforeseen did occur for Howard. During his first ever doctor's appointment for a physical, his overall results were great with one exception – his PSA number was borderline high. The next year, the number was slightly higher. In 2013, the number increased significantly but he had no family history of prostate cancer, no symptoms and he felt it was just a number. However, a biopsy confirmed a diagnosis of prostate cancer for the 57 year old.
Knowing surgery was needed, Howard and his wife sought out a second opinion. His nurse, Sandy C., at Patient Advocates in Grey, Maine, advised them to reach out to Dr. Ingolf Tuerk, chief of Urology and director of the Robotic-assisted Surgery Program at St. Elizabeth's Medical Center.
"From the moment Dr. Tuerk walked through the door and explained in much greater detail the surgery I needed, I knew we were in good hands," explains Howard. "Dr. Tuerk has a confidence and a way of transferring this confidence to patients, which I had never experienced."
On Aug. 6, 2013, Howard underwent a successful robotic-assisted prostatectomy performed by Dr. Tuerk. At his 12-week checkup, his PSA blood work was not measureable as it was zero.
"I am very fortunate and grateful for all the people – my family, Sandy – who helped me get in front of Dr. Tuerk and St. Elizabeth's," says Howard. "It changed and saved my life."
Jack C.
I had been having difficulty with my prostate for 10 years and eventually, I was diagnosed with prostate cancer. After a lot of research and decision making, I turned to Dr. Tuerk. There is no question in my mind that Dr. Tuerk was without question the absolute best choice I could have made to be the lead physician in having my prostate removed.
Dr. Tuerk is an extraordinary physician having all of the qualities that you would want in a person who has your life in his hands. He is knowledgeable, experienced, motivated and patient centered as well as being in control, giving you top priority and following up with all of your needs. He was the right choice for me and I give him and "Team Tuerk" my highest recommendation because in fact they were an extraordinary team that worked together to get me where I am today.
John H.
When John H., 65, needed surgery for his prostate cancer, he became his own advocate, researching physicians in the Boston area and interviewing nearly a dozen before deciding to seek his care with Dr. Tuerk. While he found that some physicians seemed to shy away from such patient self advocacy, Dr. Tuerk welcomed it.
"We spent almost an hour talking in our first meeting. He gave me a lot of information," John says. He and his physician also bonded over the German language, the native tongue of his physician, a little of which he speaks.
Last fall, John was diagnosed with prostate cancer after it was discovered that his PSA, or prostate specific antigen levels, had reached a point where action was required to treat his disease. While researching physicians, he also researched his surgical options, deciding to undergo robotic surgery at St. Elizabeth's for a procedure called a radical prostatectomy performed by Dr. Tuerk. He now has a clean bill of health and is back at work full-time, maintaining a demanding travel schedule for his job as an executive and feeling well.
A first-time patient at St. Elizabeth's John says he was impressed at each encounter he had a patient.
"They got everything right," he says.
Robert P.
When I received my prostate cancer diagnosis in March 2009, I was very shocked and it was a hard pill for me to swallow. Before deciding to undergo robotic prostate cancer surgery, I did a lot of research and read that a larger percentage of people were going this route. My ulcerative colitis prevented me from going through radiation therapy. This is when my PCP suggested that I meet Dr. Tuerk. As soon as I met Dr. Tuerk, my mind was made up. His great bedside manner and confidence made me feel more assured of the process.
My results were phenomenal. My operation was on a Monday and I went home on Tuesday. I took it easy on Wednesday and made it back to work on Thursday. Thanks to robotic prostate cancer surgery I was able to get back on my feet in no time and I would absolutely recommend Dr. Tuerk, and his excellent team, to any of my friends and family.
Michael S.
My wife was diagnosed with ovarian cancer in 2004, so when I was diagnosed with prostate cancer in November 2009, we both thought, "Oh no, not again." My cousin and one of my co-workers had a robotic-assisted procedure done for their treatment and were both former patients of Dr. Tuerk. They highly recommended him and the procedure. I did more research on "robotic prostate cancer surgery" and liked that it was less invasive and that the recovery time was much shorter.
I am very happy with the results. I recovered quickly and was right back on my feet after the surgery. Everything is working as it should. My wife is an nurse and she absolutely praises the procedure and Dr. Tuerk. My experience at St. Elizabeth's was first class all the way.
Mark W.
I was diagnosed with prostate cancer in October 2009. I had PSA testings done three times and the results were very high. When I was given the diagnosis I was not as shocked because of the high PSAs. Although I was not surprised to find out that I had prostate cancer, it did not lessen the fear and anxiety that my wife and I experienced. My primary care physician recommended that I get my prostate removed considering my young age and my high weight. He recommended me to Dr. Tuerk who made a great first impression with his high confidence level.
My operation went great and my wife and I were very happy with the results. Dr. Tuerk was a fantastic surgeon and I did not expect to have such great results and a quick recovery time. I thought that I would end up being incontinent but after the surgery, everything is working as it should. My wife and I are extremely happy and pleased that we decided to do the robotic prostate surgery and see Dr. Tuerk.