Physical & Occupational Outpatient Therapy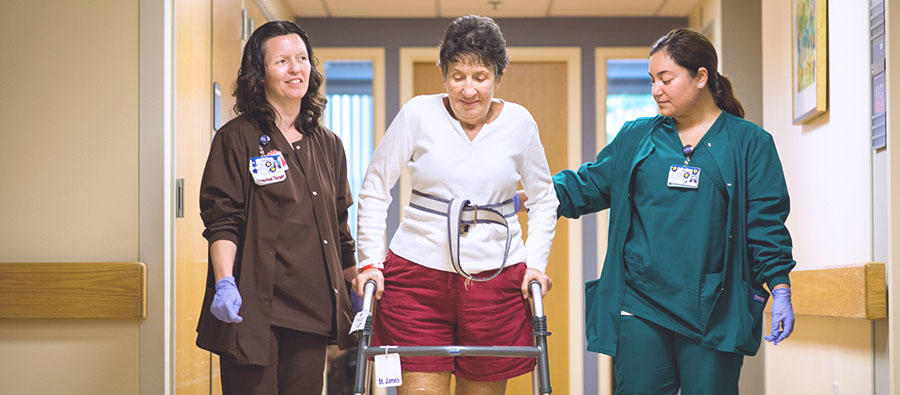 We are here to help you find what you need.
St. Elizabeth's provides a full range of speech, occupational, physical, and sports medicine therapy services for inpatients and outpatients.
Physical and Occupational Outpatient Therapy at St. Elizabeth's
Inpatient Rehabilitation Services
Inpatient rehabilitation therapists work closely with physicians in every medical specialty to help patients reach their highest level of functioning, providing:
Physical therapy
Speech therapy
Occupational therapy
Outpatient Rehabilitation Therapy Services
Outpatient physical and Sports Medicine therapists work closely with referring physicians and health care providers in treating patients with a broad variety of conditions. Specialties include:
Orthopedic manual therapy
Fabrication of foot orthotics
Vestibular rehabilitation
Ergonomics and injury prevention
Work conditioning
Chronic pain management
Pelvic Floor Therapy Program
St. Elizabeth's offers comprehensive pelvic floor rehabilitative services to assist men and women from adolescence to late adulthood with a variety of conditions to improve quality of life and overall wellness. Education is provided by our certified and trained physical therapists in a comfortable and private setting.
Speech and Language Therapy
Speech therapists diagnose and treat speech, language, swallowing, and cognitive disorders to improve individuals' quality of life. Services include:
Cognitive retraining after brain injury or stroke
Customized alternative communication for patients with language deficits
Treatment for speech production and voice disorders
Assessment and treatment of swallowing disorders
Occupational Therapy
Outpatient occupational therapists provide a full range of therapeutic modalities and treatment techniques, specializing in hand and upper extremity rehabilitation to help patients perform the tasks of daily life and work. Services include:
Splinting
Wound care
Pain management
Sensory re-education
Range of motion and strengthening
Neurologic rehabilitation
Hand therapy
Fine motor co-ordination
Cognitive / perceptual retraining.
St. Elizabeth's evaluates and treats both surgical and non-surgical patients with any type of injury to the hand or arm, including fractures, tendon and nerve injuries, arthritis, tendonitis, stroke, sports injuries, burns, and amputations.