Ekkehard M. Kasper, MD, DPhil, Chair of Neurosurgery
 Dr. Kasper is the Chair of Neurosurgery at St. Elizabeth's Medical Center as well as the Regional Chief of Neurosurgery for Steward and Professor of Neurosurgery. A graduate of Freiburg University (Germany) and Oxford University (England), Dr. Kasper completed his neurosurgical training at Mass General Hospital in Boston and has cultivated an expertise in treating cancers and benign tumors of the brain and spine, using state-of-the-art technology with a mastery in stereotactic radiosurgery. He is also experienced in all of general neurosurgery.
His areas of special interest include:
•    Benign and Malignant tumors of the Brain and Spine; Pituitary Tumors 
•    Metastatic Disease of the Brain and Spine; 
•    Radiosurgery
•    Traumatic Brain Injury and Neurocritical Care
•    Hydrocephalus
•    Chiari Malformation
•    Cerebrovascular Neurosurgery (Cavernomas, Intracranial hemorrhage, SAH)
•    Neurosurgery in Pregnancy
•    Minimally Invasive and Endoscopic Neurosurgery
Fred C. Lam, MD, PhD, FRCSC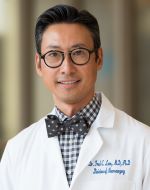 Dr. Fred C. Lam
 is a Canadian board-certified Neurosurgeon with a PhD in Neuroscience. He obtained his neurosurgical fellowship training at Beth Israel Deaconess Medical Center, Harvard Medical School, Boston, MA, specializing in tumors of the brain and spine. Following his neurosurgical fellowship, he pursued a postdoctoral fellowship at the Koch Institute for Integrative Cancer Research at MIT studying the use of nanotechnology and precision medicine for the treatment of brain tumors. Dr. Lam then returned briefly to Canada to be part of the multidisciplinary brain tumor team at McMaster University, the most research-intensive university in Canada. He most recently completed a neurosurgical fellowship at Northwell Health in New York, working with world-class neurosurgical-oncology surgeons. He is thrilled to return to Boston to provide comprehensive neurosurgical care at Saint Elizabeth's Medical Center, across the Steward Network, and throughout New England.
Dr. Lam's oncology research has been published in top internationally recognized journals, including Nature, Science, Cancer Cell, and Nature Communications. His clinical research at Harvard using innovative surgical approaches to treat challenging brain and spinal disorders have appeared in the prestigious journals Journal of Neurosurgery Spine and Operative Neurosurgery. Dr. Lam has been invited to present his research at international conferences and is a passionate advocate of translational research bridging benchtop to bedside discoveries in order to improve outcomes for patients with brain and spine disorders. He is also interested in addressing disparities in the delivery of cancer care within the community. Dr. Lam serves as a reviewer and associate editor for several international peer-reviewed journals in neurosurgery and neuro-oncology and is passionate about science education and public outreach.      
Sharon Bassi, MD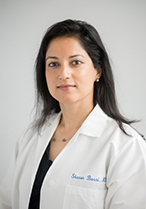 Dr. Sharon Bassi is board-certified in physical medicine and rehabilitation and serves as the Spine Center Medical Director at St. Elizabeth's Medical Center. She specializes in evaluating and treating non-surgical musculoskeletal and spine conditions using conservative modalities, such as exercise-based physical therapy and image-guided injections. After earning her medical degree from the University of Florida College of Medicine, Dr. Bassi completed her training in Physical Medicine and Rehabilitation at Harvard Medical School, where she served as Chief Resident, earning numerous academic and leadership awards. She then completed a fellowship at the University of California (UCLA) focused on advanced training in non-surgical spine care, resulting in board certification in pain medicine. She is also a member of many professional societies, including the American Academy of Physical Medicine and Rehabilitation, Spine Intervention Society, and American Association for Physician Leadership. Dr. Bassi holds academic appointments at Tufts Medical Center as an Assistant Professor and at Boston University Medical School as an Adjunct Assistant Professor.