Upper GI Series
What is an Upper GI Series?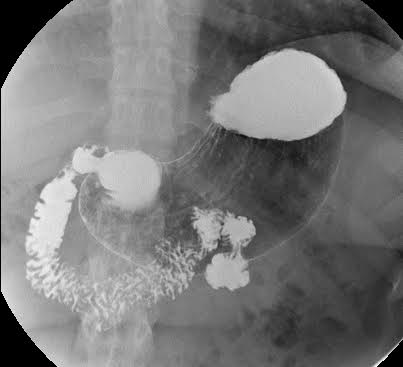 An upper gastrointestinal series (UGI) is a fluoroscopic examination of the esophagus, stomach, and duodenum (first part of the small intestine). The patient drinks a liquid suspension called Barium Sulfate, which outlines the anatomy of the esophagus, stomach and duodenum under fluoroscopy. Usually the patient will drink different types of barium solutions, effervescent granules, and often a barium tablet. Sometimes water soluble contrast is used when a leak is suspected. 
How do I prepare for the exam? 
Specific instructions include nothing to eat or drink after midnight or at least 8 hours before exam. At the time of study, you will change into a hospital gown. You will be asked to remove jewelry or objects that may interfere with the procedure. 

What can I expect during the exam? 
After you have changed, the technologist will walk you to the fluoroscopy suite. The technologist will then explain the procedure in detail. Preliminary X rays may be taken.
The radiologist comes and introduces him or herself, checks the preliminary X rays (if any), and then talks to you about your medical history and discusses the indication of the examination.
The fluoroscopic table on which the study is performed can be vertical or horizontal in position. Barium swallow is usually begun in the standing position. You will be asked to drink barium suspensions, with specific instructions of how much to drink and when to drink. At some point the table will be slowly turned to horizontal position. You will be asked to move into various positions and multiple images will be taken. You may be asked to drink additional barium while lying on your stomach. The exam takes about 15-30 minutes. 
What are aftercare instructions?
Barium can be constipating, so it is important to drink plenty of fluids to wash the barium out of your system. You can immediately resume your regular diet. Your stool may be whitish because of barium.

Radiologyinfo.org for Patients
The radiology information resource for patients. RadiologyInfo.org tells you how various X-ray, CT, MRI, ultrasound, radiation therapy and other procedures are performed. It also addresses what you may experience and how to prepare for the exams. The website contains over 200 procedure, exam and disease descriptions covering diagnostic and interventional radiology, nuclear medicine, radiation therapy and radiation safety and is updated frequently with new information. All material on the RadiologyInfo.org website is reviewed and approved by experts in the field of radiology from the ACR and RSNA, as well as other professional radiology organizations.