St. Elizabeth's Highlights Stroke Awareness in Collaborative Boston Event
Hospital partners with Boston agencies for outreach on stroke risk and prevention measures
BRIGHTON - In an effort to increase stroke awareness and the signs and symptoms of stroke as well as the need to obtain emergency care as fast as possible for someone experiencing a stroke, St. Elizabeth's Medical Center was among a number of Boston institutions that banded together for an event in Dorchester on Juneteenth.
As a participating partner in the Paul Coverdell National Acute Stroke Program (Centers for Disease Control and Prevention, 2023) St. Elizabeth's Medical Center took the lead  and collaborated with Boston EMS (BEMS), Boston Medical Center(BMC), and Encompass Health to provide a Stroke Awareness Program at the 2023 Juneteenth community event. The event was supported through a state Department of Public Health grant received by MORE Advertising, a marketing and advertising agency to develop a stroke public awareness collaboration project. Stroke is the 5th leading cause of death in the U.S. and a leading cause of disability in America, according to the American Stroke Association.
"The goal of the grant project was to support providers to conduct stroke related public awareness activities within their communities, with special emphasis on reaching Black non-Hispanic, Asian non-Hispanic, and Hispanic populations, as well as those who are at highest risk for stroke and/or communities traditional public awareness activities may not reach," said Dr. Judith Hinchey, Stroke Program Director at St. Elizabeth's Medical Center. She was joined at the event with Susan Riley, MSN, RN, ASC-BC, St. E's stroke nurse coordinator.
The event was the culmination of five months of program development that included stroke education on the continuum of stroke care from stroke recognition to emergent management to stroke risk factors and prevention to post stroke care and rehabilitation. Ask a doctor,  blood pressure screening, ambulance tours, and clinician consultations were available to participants. The event also included consultations for participants as well as written stroke materials in multiple languages and items and health snacks for children.
"Strong partnerships and a genuine desire to see this project through to completion were instrumental in the success of this program," said Dr. Anna DePold Hohler, Chair, Department of Neurology at St. Elizabeth's Medical Center. "The collective belief that better patient outcomes are driven by health care providers and patients in partnership, was fundamental in developing this program."
St. Elizabeth's was recently recognized as a 2023 Get with the Guidelines GOLD PLUS with Target: Stroke Honor Roll Elite Plus and Target: Type 2 Diabetes Honor Roll from the American Heart Association and the American Stroke Association. The award reflects the Stroke team's commitment to providing "the most up-to-date evidence-based treatment guidelines to improve patient care and outcomes in the community" it serves.
Signs and Symptoms of Stroke
"F.A.S.T." is one educational way to help spots signs of stroke:
F: Facial drooping
A: Arm weakness
S: speech difficulties
T: Time (call 911 immediately)
The following stroke risk factor chart is another awareness tool: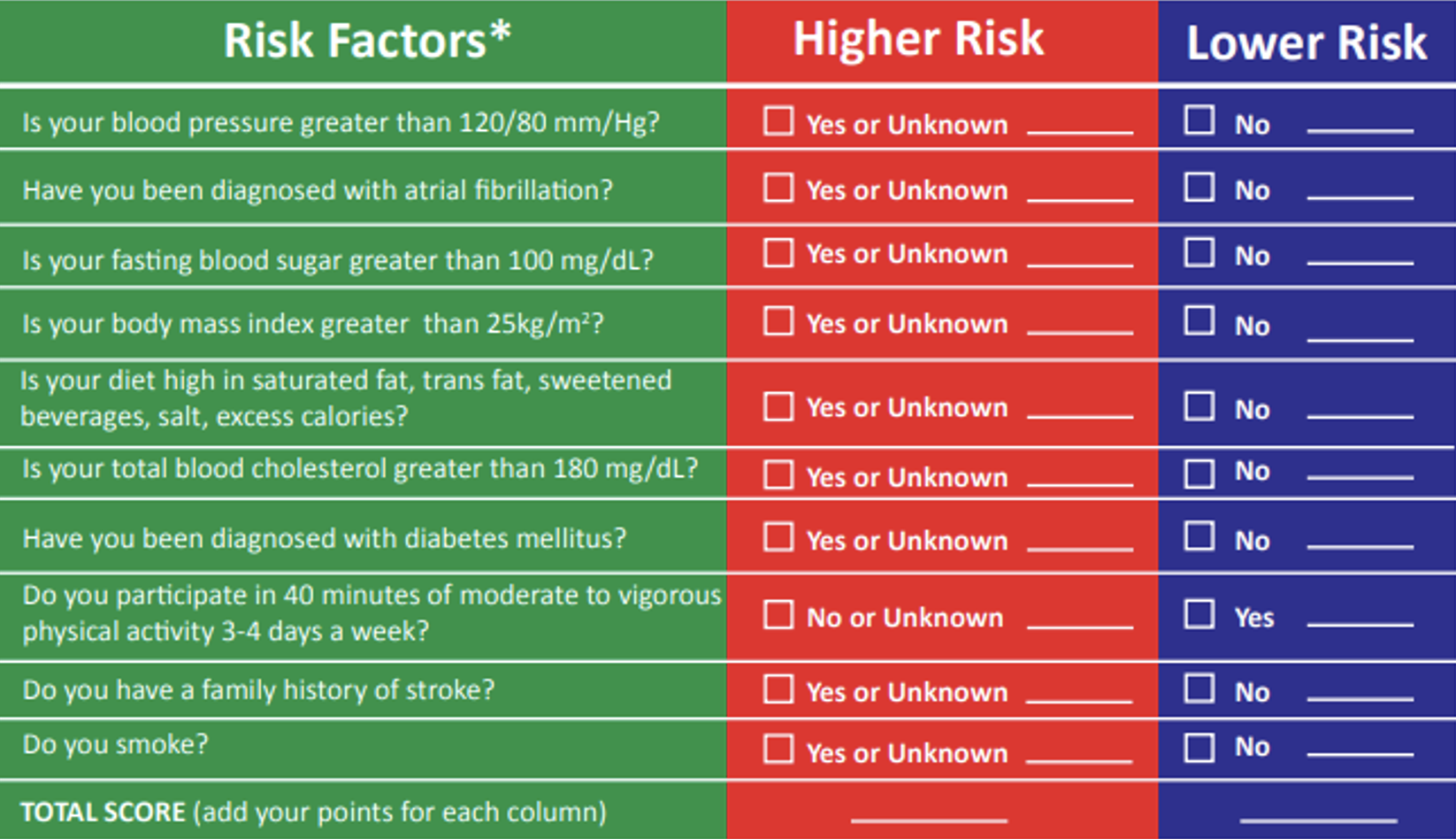 Dr. Hinchey, Susan Riley, and Dr. Hohler will continue to highlight stroke awareness in the community. Their next outreach will take place July 22 at the 4th annual Veteran's Music Festival, Career & Benefits Expo. The event takes place 10 a.m. – 3 p.m.,  Pageant Field, 1 Merrymount Parkway, Quincy. The free event is open to veterans and first responders and their families. Dr. Hohler and Keith Ciccone, BS, LPN, nurse specialist, Department of Neurology at St. Elizabeth's, will present the Parkinson's Pavilion, with information on health and wellness, research initiatives and updates.