St. Elizabeth's Medical Center Names Virginia R. Litle, MD, Chief of Thoracic Surgery
Dr. Litle brings expertise in benign and malignant esophageal diseases, ablative therapies of esophageal and airway pathology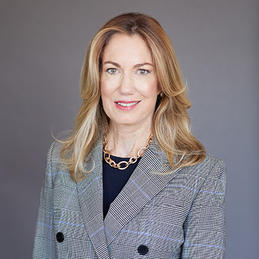 BRIGHTON – St. Elizabeth's Medical Center has named Virginia R. Litle, MD, as Chief of Thoracic Surgery. Dr. Litle brings expertise in providing minimally invasive approaches to benign and malignant diseases of the esophagus including gastroesophageal reflux disease (GERD), Barrett's Esophagus, and esophageal cancer, as well as minimally invasive treatment of lung cancer and mediastinal diseases.
Dr. Litle completed fellowships in thoracic minimally invasive surgery and surgical oncology at the University of Pittsburgh, where she also completed a residency in cardiothoracic surgery. She completed her general surgery residency at the University of California, San Francisco, after graduating from the Brown-Dartmouth Program-in-Medicine. She is a Professor of Surgery at Boston University and has been named to Boston Magazine's Top Doctors list numerous times. She has previously worked at other prestigious institutions in Boston and most recently in Utah.
"Dr. Litle's experience and skills will make a meaningful difference in the quality of life for our patients who are in her care," said Paul C. Smith, President of St. Elizabeth's Medical Center. "We are delighted she is leading our thoracic surgery team and working with our multidisciplinary program to support best outcomes for our patients."
Dr. Litle's clinical interests include the treatment of benign and malignant esophageal diseases  including paraesophageal hernias, achalasia, and esophageal cancer. She also treats lung cancer and uses robotic approaches, as clinically appropriate, for the treatment of mediastinal diseases including thymomas, and nonthymomatous myasthenia gravis, an autoimmune disorder. Additionally, Dr. Litle provides palliative thoracic interventions including endoscopic ablative therapies of esophageal and airway pathology. Her research interests include a focus on the prevention of venous blood clots following thoracic surgery, screening for esophageal cancer with a sponge technique, and disparities in the management of thoracic cancers.
"Leading the Division of Thoracic Surgery at St. Elizabeth's is a unique opportunity that will allow me and the care teams I collaborate with to provide exceptional care to patients who are facing thoracic diseases and conditions," said Dr. Litle. "I look forward to helping patients through their challenging health journeys with compassion and helping them achieve the most optimal outcomes possible."
Dr. Litle is a member of the AATS, ESTS, STSA, ISMICS and STS, is President of the Naffziger Surgical Society at the University of California, San Francisco, and is a Past President of Women in Thoracic Surgery. She also serves as the Vice President of the Thoracic Surgery Foundation, the charitable arm of the Society of Thoracic Surgeons. Among other distinguished editorial posts, Dr. Litle is the editor of Thoracic Surgery Clinics, an associate editor of The Annals of Thoracic Surgery, senior associate surgical editor of Foregut and is an active member of the following national and international committees: AATS Wellness, the European Society of Thoracic Surgeons, STS Thoracic Infections, International Society of Diseases of the Esophagus, SDE Guidelines and the ESTS/AATS VTE Committee.
Dr. Litle's office is located at St. Elizabeth's Medical Center, 11 Nevins St., Suite 201, Brighton, MA, and may be reached at 617-779-6382.