St. Elizabeth's Medical Center's Cancer Program Earns National Accreditation from the Commission on Cancer of the American College of Surgeons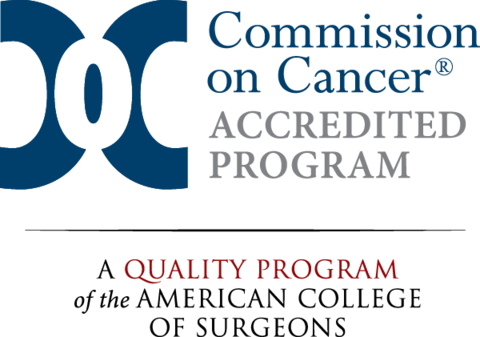 Brighton, MA – The cancer program at St. Elizabeth's Medical Center has been awarded three-year accreditation by the Commission on Cancer (CoC), a quality program of the American College of Surgeons (ACS).
To earn CoC accreditation, a cancer program must meet important cancer quality care standards, be evaluated every three years by cancer experts, and maintain the highest levels of excellence in the comprehensive patient-centered cancer care. St. Elizabeth's CoC Cancer Liaison Physician Dr. Claudius Conrad, a surgical oncologist, commented, "The highly sought after CoC-accreditation validates the expertise, compassion and dedication of our cancer care professionals to patients battling cancer." 
As a CoC-accredited cancer center, St. Elizabeth's takes a multidisciplinary approach to treating cancer involving surgeons, medical- and radiation oncologists, diagnostic radiologists, pathologists, and other cancer specialists. A close partnership between Dana-Farber Cancer Institute and St. Elizabeth's allows patients to access Dana-Farber's advances in technology and research with the comfort and convenience of being at their local hospital. This successful partnership has led to patients traveling to St Elizabeth's for their comprehensive cancer care from New England, across the U.S., as well as overseas.
In announcing the accreditation, St. Elizabeth's President Paul Smith praised the hospital's team of cancer professionals in upholding highest standards of care and doing so with compassion.
"The Commission on Cancer's accreditation is a testament to the expert care and sensitivity that St. Elizabeth's cancer team brings to our patients," he said. "We are proud to recognize our oncology physicians, pathologists, surgeons, nurses, therapists, and all support staff for providing collaborative, compassionate and high-level care to patients throughout their cancer experience."
The value of CoC accreditation
The CoC Accreditation Program provides the framework for St. Elizabeth's to strive for the best possible patient care through cancer-specific programs that provide the full spectrum of cancer care. Components include prevention, early diagnosis, cancer staging, optimal treatment, advanced open and minimally invasive cancer surgery, rehabilitation, life-long follow-up for recurrent disease, and end-of-life care. Patients also have access to clinical trials and novel treatments, genetic counseling, and patient centered services that provide support, enhance care, and improve cancer survivors' quality of life.
As a CoC-accredited facility, St. Elizabeth's maintains a state-of-the-art cancer registry which reports to the largest clinical disease registry in the world. Researchers at St. Elizabeth's under the leadership of Dr. Conrad have not only analyzed this dataset to confirm excellence in cancer care at our hospital but also report on important national trends in the most impactful cancer journals. Using the dataset, St. Elizabeth's benchmarks the quality of its cancer care with the top centers in the country.
Why is providing cancer care in accordance with CoC-standards important?
In 2023, the American Cancer Society estimates that more than 1.9 million cancers will be diagnosed in the US, and more than 42,880 cases will be diagnosed in Massachusetts alone. Considering that cancer is one of the deadliest diseases leading to premature death, optimal cancer care is one of the pillars of care at St. Elizabeth's.
About St. Elizabeth's Medical Center
St. Elizabeth's Medical Center, a Boston University Teaching Hospital, offers patients access to some of Boston's most respected physicians and advanced treatments for a full range of medical specialties, including cancer care, family medicine, cardiovascular care, women's and infants' health, cancer care, neurology care, and orthopedics. The 308-bed tertiary care facility is part of Steward Health Care. Visit www.semc.org.
About the Commission on Cancer
Established in 1922 by the American College of Surgeons, the CoC is a consortium of professional organizations dedicated to improving patient outcomes and quality of life for cancer patients through standard-setting, prevention, research, education, and the monitoring of comprehensive, quality care. Its membership includes Fellows of the American College of Surgeons. Information about resources, services, and cancer treatment experience for each CoC-accredited cancer program is available through the CoC Hospital Locator at www.facs.org/search/cancer-programs. For more information, visit www.facs.org/cancer.
# # #