A Novel Partnership at St. Elizabeth's Medical Center Aims to Heal the Addicted Brain with Pet Dog Adoptions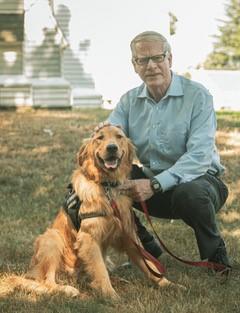 Working with Golden Opportunities for Independence and Power Forward, Inc., Program Offers Hope and Healing
Is it possible that man's best friend could make a significant impact on combatting the opioid crisis by helping prevent drug relapses and overdose deaths? That is an opportunity St. Elizabeth's Medical Center primary care and addiction medicine physician Michael Hamrock, MD, is exploring with two local non-profits: Golden Opportunities for Independence (GOFIDOGS) and Power Forward, Inc.
"I hear regularly from my patients about the tremendous physical and mental health benefits they receive from being a dog owner. This includes improving outcomes with their chronic medical conditions while helping maintain sobriety for those suffering with addictions," says Dr. Hamrock. "It is time that we explore this exciting opportunity as an additional treatment modality for those afflicted with opiate use disorders where no family is now immune from this challenging chronic brain disease.
With the steady escalation in fentanyl use, Dr. Hamrock says this disease has become more deadly than many cancers and is responsible for more than 100,000 fatal overdoses in the U.S.  last year. To explore this impact of dog ownership in more detail, and hopefully prevent more relapses and overdose deaths, St. Elizabeth's Comprehensive Addiction Program has partnered with Golden Opportunities for Independence (GOFIDOGS) and Power Forward, Inc. to establish the Dog Ownership Enhancing Recovery (DOER) program. GOFIDOGS breeds and trains Golden Retrievers for people with disabilities, and Power Forward's mission is to end the stigma of addiction and help provide sober living scholarships to the most vulnerable with this disease.
"The DOER program is providing trained pet dogs to sober homes and to qualified participants enrolled in our outpatient addiction Medication Assisted Treatment (MAT) program to better determine if pet dog adoptions can help improve compliance and retention with recovery programs, curtail relapses with opiate use, and prevent fatal overdoses," Dr. Hamrock said. "Additionally, those afflicted with alcohol use disorders should benefit tremendously by this program and will be invited to participate as well."
Vigorous screenings and interviews including home visits and follow-up inspections will be done to properly choose sober homes and candidates from MAT programs who are motivated and capable of providing safe and comfortable ownership and care to pet dogs. Participants will be expected to attend dedicated training sessions involving proper caring for their adopted dog and better coping skills for maintaining sobriety. New dog owners will also be given the option to partake in further training classes to obtain a Service Dog Trainer Certificate for career opportunities in this field. 
When combined with MAT programs, counseling, group meetings, spiritual care, and having a sponsor, providing pet dogs to those suffering from substance use disorders may prove very useful to help better address and target several of the key risk factors for this disease. These therapeutic interactions with the adopted dogs include relieving stress and enhancing mental health for those who self-medicate for untreated behavioral health issues, promoting responsibility and accountability for those with impaired brain maturation from early teen drug use, and fostering a caring environment and filling the void in nurturing that was never provided to those who experienced adverse childhood events such as abuse and neglect.
"These risk factors make one more susceptible to using and misusing drugs that serve to "hijack" the brain by altering specific brain circuit pathways that incite tolerance, relentless cravings, and diminished self-control that give rise to addictions," Dr. Hamrock said.
Pet dogs can be instrumental in overcoming these powerful addictive drives and triggers for relapse while healing the injured brain by helping their owners become whole again physically, mentally, socially, and spiritually. Further, the dogs can serve as guides for this restorative journey by assisting those afflicted with staying active and fit, providing safety and companionship, preventing loneliness and isolation, reestablishing relationships, developing a sense of purpose and value, and offering unconditional love and joy.
"This novel therapeutic strategy could become an important component of the multifaceted approach needed for better outcomes with the prevention, intervention, treatment, and recovery from substance use disorders," Dr. Hamrock said. "Hopefully, this will prevent more needless sufferings and save many lives."