Running Boston with a Big Heart
Dr. Lawrence Garcia set out to run the Boston Marathon in 2018 as a surprise to his wife, an accomplished marathoner. But through the awarding of a charity bib, his purpose took on even greater meaning: supporting the Joseph Middlemiss Big Heart Foundation and raising awareness about cardiomyopathy, a disease of the heart muscle.
A distinguished interventional cardiologist at St. Elizabeth's Medical Center, Dr. Garcia has traveled the world to teach about vascular disease and conduct clinical research as a global principal investigator with a concentration on newer medical devices and innovation before they become the next breakthrough treatments. He was greatly moved to be paired with the charity which honors the life of Joseph Middlemiss, who died at age 6 in 2013 of cardiomyopathy and supports ongoing research into the disease. The Dracut, Mass.-based charity also advocates for random acts of kindness in Joseph's name and helps support other families affected by the disease. (visit www.jmbigheart.org for more information).
"Their story is remarkable," said Dr. Garcia, who, like Joseph was, is a fan of The Beatles. "With all my honor I will continue to run for them as long as they will have me."
The 126th marathon on April 18 will be Dr. Garcia's seventh marathon overall, and the fifth time he is running Boston. He is excited to return to an in-person spring event after COVID-19 forced the oldest marathon in America to go virtual in 2020 and move to an October race day in 2021 with a field of 20,000 runners. This year, there will be 30,000 runners, and each needs to be fully vaccinated against COVID-19.
"It's good to get everyone back together," he said. "It's the granddaddy of all races."
Dr. Garcia's personal best in a marathon distance of 26.2 miles is 3 hours and 50 minutes which he attained in the New York City Marathon in 2019. He has long been avid about having a fitness regimen in his life, dating back to his college days. He often arrives at the gym at 4 a.m., conducts weight training four days a week, and completes his runs after his gym workout before returning home to see his children off to school. As a cardiologist, he feels it is important to also set a good example for his patients and inspire and encourage them to look after their own health and fitness.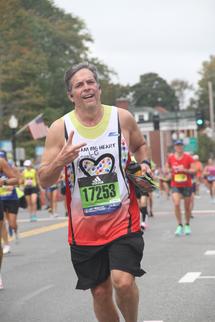 "I think that doctors need to practice what they preach," he said. "My health and what I do is equal to what I try to prescribe and ascribe to my patients." 
Last year Dr. Garcia logged 1,740 miles running and has already put in about 500 miles so far this year. His mileage accelerated through COVID when he could no longer go to the gym, and he runs year-round, adjusting his training for marathon distance. Dr. Garcia ran the Boston and New York marathons virtually in 2020 and recalled how emotional he became when hitting mile 20 of the New York virtual marathon, listening to an audiocast of a cheering crowd at what would have been the homestretch of that race crossing the 59th Street Bridge and onto First Avenue on the East Side of Manhattan.
"It just got me going," he said. "They did it well."
As he prepares for Marathon Monday, he has been tapering his runs toward race day. As long as the weather is not overly warm and he is able to hydrate the way he needs to, he hopes to accomplish his goal of matching his personal best. He is proud to be among the thousands of runners who will run Boston in support of a charity. 
"I don't know if it's in our DNA, whether it's a big heart or if we have the gumption to support others," Dr. Garcia said of the charity runners. "We love to run, and if I can do it in the semblance of a marathon which is the best in the world, that's the icing on the cake. To marry it to a charity, it's the best of both worlds."