Never Forget: Paying Tribute to 9/11 First Responders Through Health and Wellness
Dr. Michael Hamrock, a Steward Medical Group primary care physician, planned to be in New York City this weekend to mark the 20th anniversary of the Sept. 11, 2001 terror attacks on the World Trade Center. He was invited by the International Association of Fire Fighters to speak at its Biannual Health and Safety Symposium to firefighters and paramedics from the FDNY and across the country about the importance of health and wellness programs for first responders, but the COVID-19 pandemic and delta variant dashed those plans.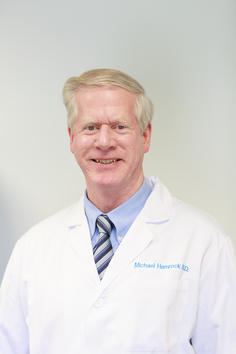 Twenty years ago, on Sept. 11, Dr. Hamrock, watched the harrowing attacks on television at Boston Fire Department (BFD) headquarters. As a former emergency medical services responder and Boston firefighter who served as the department's medical director at the time, the deaths of 343 FDNY firefighters that fateful day still hits close to home.
"We know when those firefighters ran into that building, they likely knew they weren't going to come out," Hamrock said. "The legacy, the sacrifices those firefighters made for their families, we must always remember and honor them."
The health and wellness of firefighters have long been a passion for Dr. Hamrock. He first saw the effects of the fire profession on firefighters' health in 1986 when he was working as a Boston probationary firefighter assigned to Ladder 2. That year, three of his colleagues were diagnosed with cancer. With that motivation, he started taking pre-med courses at night and began a career path that married his love of the fire service with his love of medicine. He would eventually complete his residency in Internal Medicine at St. Elizabeth's Medical Center in Brighton, MA, before going on to serve as the BFD's medical director from 1998 to 2011.
During his second year at UMass Medical School Dr. Hamrock wrote a paper on health and wellness in firefighters and began a wellness program for the BFD. Since then, it has taken off in the form of preventive screenings beginning at age 40 for firefighters, including PSA level checks for prostate cancer, conducting stress tests and having firefighters undergo colonoscopies, a procedure that is key to diagnosing colon cancer early, and other early detection screenings and specialized behavioral health support.
Twenty years after 9/11, firefighters who served at Ground Zero in the aftermath of the attacks are still being diagnosed with various medical conditions including cancers linked to exposure to toxic dusts, jet fuel, asbestos, silicones, and fibers– all which they inhaled, ingested, and absorbed for weeks while conducting recovery missions at the Ground Zero "pile."
The nature of their jobs puts firefighters at elevated health risk, both immediate and long term, Hamrock says, and many lessons about those hazards and conditions were derived from the Sept. 11 attacks and its aftermath. "We learned a lot about incident commands on fire grounds and we learned a lot about the unique occupational risks firefighters have," he said.
Those risks include higher incidences of respiratory, gastrointestinal, and genitourinary cancers, leukemias, lymphomas and skin cancers as well as the often invisible post-traumatic stress injuries. According to Dr. Hamrock, firefighters experience five times higher risk than the general population of developing PTSD; they also battle anxiety, depression, self-medicating behaviors with alcohol and substance misuse, and suicide.
The goal of the preventive screening programs is to identify health risks early and equip firefighters with the tools to improve their health, quality of life, and longevity. Part of the wellness programs help promote post-traumatic growth including training firefighters on using meditation, tactical breathing exercises, and learning about cardio strength and endurance.
"What we're really trying to do is train firefighters to look at themselves as tactical athletes," he said.
Dr. Hamrock also recently presented on the successes of the St. Elizabeth's early detection cardiovascular and lung screenings performed on over 450 Boston police officers to 5,000 members of the Fraternal Order of Police, at a conference in Indianapolis. More than 70 law enforcement officers from 10 different agencies also perished on 9/11. He hopes to replicate the preventive health programs that are in place with firefighters to also serve the law enforcement community. Dr. Hamrock credits the success of these programs to his many colleagues at St. Elizabeth's Medical Center, including the vascular and radiology technicians who care for their first responder patients with the utmost dignity, compassion, and respect.
Steward Health Care has also established a First Responder Support Access Program in Massachusetts that will serve as the national model for similar programs across the many diverse local communities Steward proudly calls home. The program includes a dedicated 24/7 access line available for first responders who reach out for medical assessment and treatment. First responders who call are connected to a Steward clinician who can provide immediate referrals to care resources. These clinicians have strong clinical backgrounds and years of mental health experience, with training specific to the care of first responders. Resources through this program include outpatient care, Emergency Department care when needed, including clinical navigators with specific training to work with first responders, and other care planning as appropriate.
"Our first responders are always here for us and we have a duty to be there for them," said Brenden Hayden, System Vice President of Emergency Medical Services at Steward Health Care. "This medical approach is yet another tool first responders have available to support them in their time of need and we are proud to offer this service and compassionate care."
The fire service is a unique family and one that Dr. Hamrock is proud to be associated with over his career. His interest in medicine was honed as a teenager while working at the Veterans Administration Hospital in Jamaica Plain, selling newspapers to the veterans who resided there, and his research while in medical school sparked a career-long commitment to improving the health and wellness of his firefighter brethren.
"I give credit to the firefighters in my fire house who allowed me to go to night school and who covered for me," Dr. Hamrock said. "I hope by doing this I'm giving back to them."
The Sept. 11 attacks, twenty years later, transformed the fire service, Dr. Hamrock said. Time has provided a deeper understanding of the profession and response to its risks, though the tragedy of the vast losses will always resonate.
"For someone in the prime of their life, not having 20 more years with their family members is just an awful thing," Dr. Hamrock said. "The firefighters who went into those buildings did some pretty amazing work. It made us stronger. A lot of people have grown since this incident, and we have to learn from that as well."