St. Elizabeth's Medical Center Unveils Mural Honoring Health Care Heroes
(Brighton, MA) – St. Elizabeth's Medical Center recently unveiled a mural celebrating the health care heroes who work at the hospital. The mural, created in partnership with Brighton Main Streets, was painted by local artist Sam "Big Sam" Weinberger.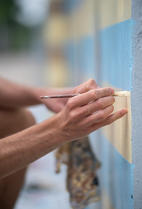 The mural is located on Cambridge Street in Brighton, decorating the corridor leading into the heart of downtown Brighton. The installation honors and acknowledges the broad team of frontline workers who enable the hospital to operate on a daily basis so St. Elizabeth's Medical Center can continue to provide the best quality of care to the community. 
The mural, crafted in Big Sam's signature style, features 17 current St. Elizabeth's Medical Center employees across 15 departments, who represent the following roles: nurses, physicians, mental health workers, EMS, anesthesiologists, biomedical engineers, priests, physical therapists, pharmacists, respiratory therapists, physicians, certified nursing assistants, CT technologists, housekeepers, and patient transporters. 
"Brighton Main Streets approached us with the idea to add artwork in fall of 2020, at a time when signs thanking health care heroes were prevalent everywhere from front lawns to windowsills. It was apparent from the start that this mural would be the perfect opportunity to display a permanent extension of that gratitude towards our health care heroes – not only for their contributions and sacrifices during the pandemic, but each and every day," said Kelly Katapodis, St. Elizabeth's Medical Center director of marketing and community benefits. 
"The idea of funding artwork to brighten up the main roadway leading to the heart of Brighton's Main Street District has been on our mind for quite some time. We were thrilled to partner with St. Elizabeth's Medical Center to bring this project to life," said Aidan McDonough, Brighton Main Streets' executive director. "With Big Sam's help, our two organizations have brought an attractive piece of art, reflecting the vibrancy of the community that we serve, to Brighton's Main Street District all while recognizing and honoring our diverse health care heroes."
"Big Sam" graduated from Boston University's College of Fine Arts in 2021 and has completed 18 other murals in his career. His colorful portrait style and vibrant, inspiring colors come to life through his signature hatch-mark painting technique. The artwork was created using a combination of spray paint and acrylic paint. To view how the mural was created, click here. 
St. Elizabeth's Medical Center is Brighton's largest employer and is growing its team across multiple departments! To join the team of health care heroes, visit semc.org/careers.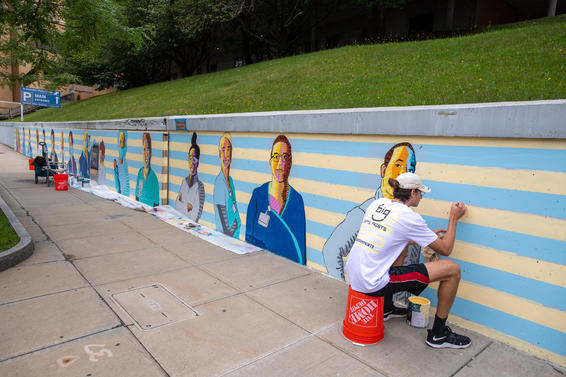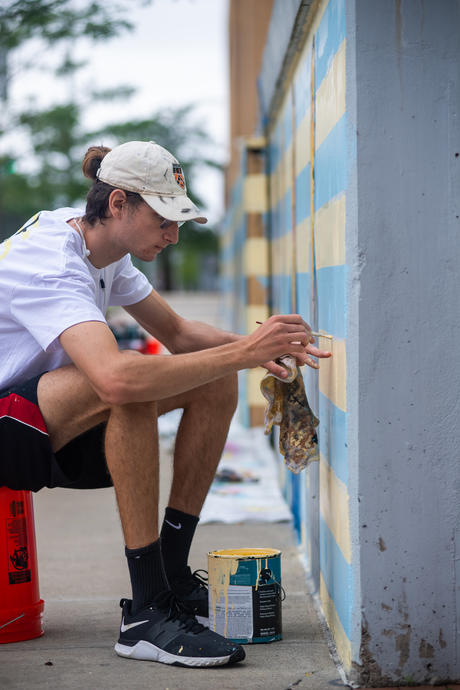 Photography courtesy of Cydney Scott, BU Today
About St. Elizabeth's Medical Center
St. Elizabeth's Medical Center, a Boston University Teaching Hospital, offers patients access to some of Boston's most respected physicians and advanced treatments for a full-range of medical specialties, including family medicine, cardiovascular care, women and infants' health, cancer care, neurology care, and orthopedics. The 308-bed tertiary care facility is part of Steward Health Care. 
About Brighton Main Streets
Brighton Main Streets (BMS) is one of twenty recognized Main Street Districts in the City of Boston. Brighton Main Streets is dedicated to the improvement of Brighton's neighborhood commercial district and quality of life in the community. Brighton Main Streets strives to enhance the appearance of our stores, diversify the business mix and services in our community, keep our neighborhood clean, and promote Brighton as a destination within the city of Boston while encouraging residents to support the local economy.
###