Local Nonprofit, Founded by Former Patients, Donates to NICU Families at St. Elizabeth's Medical Center
According to the World Health Organization, about 15 million babies are born premature each year, and preterm birth complications are the leading cause of death for children under 5-years-old. 
Fortunately, that was not the outcome for twins Sagar and Sahil Koul, who were born three months premature at St. Elizabeth's Medical Center. While the first few months of their lives were an uphill battle, the twins were in good hands with the neonatal intensive care unit (NICU) team at St. Elizabeth's and their health improved each day. 
After six weeks, they were strong enough to be transferred to Good Samaritan Medical Center's NICU to be closer to home during their hospitalization. Once they got the bill of health to go home after spending nearly 3 months in the hospital, the Koul family returned home to Mansfield, MA and have thrived ever since. 
Fast forward 17 years, and Sagar and Sahil have grown into considerate and kind young men who wanted to turn their free time into something good. They started brainstorming different ways they could give back to the community, and it didn't take long to land on the goal of their charitable efforts: they decided to raise funds and execute community service projects for organizations, like NICUs and specialized medical nonprofit groups, that provide healthcare for premature babies.
"The nurses and doctors who fought hard to ensure our good health are our true heroes – we are grateful for their commitment and selfless service in ensuring our survival, despite the heavy odds against us," said Sahil and Sagar. 
Thus, The Koul Project was born.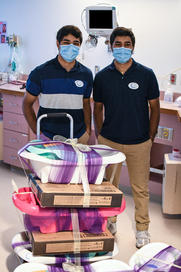 Through The Koul Project, the twins wanted to acknowledge the place that cared for them when they first entered the world: the NICU at St. Elizabeth's Medical Center. They connected with Shah Hossain, MD, Chair of Pediatrics at St. Elizabeth's Medical Center through St. Elizabeth's partnership with MassGeneral for Children, to see what they could do for current NICU families.  
"I worked at St. Elizabeth's and Good Samaritan when the twins were first born and cared for them during their time in the NICU. It is always so heartwarming to see how well our NICU graduates do, and we are thrilled that Sahil and Sagar have grown into such fine young men and are using their experience as inspiration to help others in need," said Dr. Hossain. 
After collaborating with the NICU team at St. Elizabeth's Medical Center, the Koul brothers developed Kid Kits, which are full of essential items families need once they return home after spending weeks – or months – in the hospital. 
The kits include various items such as a wash tub, Tummy Time Toy and Mat combo, swaddle sacks and sleep sacks, a sound machine, baby shampoo and body wash, and diaper rash cream. 
Thank you to The Koul Project for their generous donation to our NICU families. To learn more about The Koul Project, visit thekoulproject.org. 
###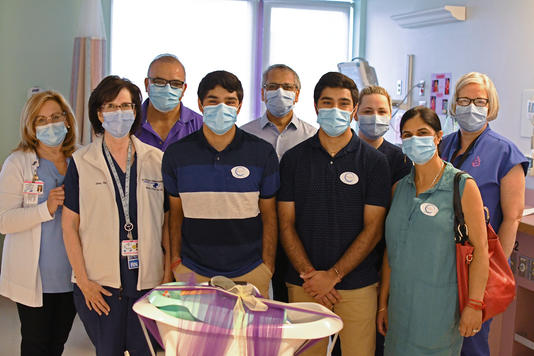 Pictured left to right: Cheryl Cirillo, MSN, RN, CLC, Nursing Director of the Maternal Child Health Department; Jane Russell, RN; Lalit Koul, father; Sagar Koul, NICU graduate and co-founder of The Koul Foundation; Shah Hossain, MD, Chair of Pediatrics; Sahil Koul, NICU graduate and co-founder of The Koul Foundation; Chelsea Leger, RN; Rachna Koul, mother; Mary Staude, RN, IBCLC