St. Elizabeth's Medical Center Welcomes Addiction Medicine Specialist Alex Varghese, MD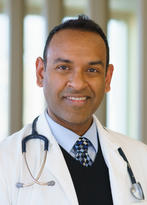 St. Elizabeth's Medical Center and Steward Medical Group recently announced the addition of Addiction Medicine Specialist Alex Varghese, M.D., to the medical staff. Dr. Varghese's expert care focuses on treating patients enrolled in St. Elizabeth's Comprehensive Addiction Program (SECAP), where he will continue his passion for prevention and treatment of substance use disorders from the perspective of an internist. 
Dr. Varghese is board certified by the American Board of Internal Medicine and is board eligible for the American Board of Preventative Medicine in Addiction Medicine via Practice Pathway.
"We are very pleased to have Dr. Varghese join our medical team full time. We have had the pleasure of working with him on a per-diem basis, and his patient-first approach to treatment emulates the type of physicians and care we provide in the SECAP unit," said St. Elizabeth's Medical Center's Medical Director of SECAP and Chief of Addiction Medicine, Dr. Fariba Miryousefi. 
Dr. Varghese earned his medical degree from Saba University School of Medicine in the Netherlands-Antilles, after which he completed a residency in internal medicine at St. Mary's Health Center in St. Louis, Missouri. 
His experience covers robust practice in both substance use disorder treatment, as well as patient care via his role as a hospitalist. Most recently he worked at SECAP per diem with hands-on experience in inpatient management of alcohol, benzodiazepine and opioid withdrawal, as well as in a hospitalist role at South Shore Hospital. He has further hospital-based experience through roles at Beth Israel Deaconess Hospital-Milton, and Steward Norwood Hospital, among others. He has received numerous recognitions for his high-quality patient care. 
Dr. Varghese joins SECAP, located at 736 Cambridge Street, in Brighton, Mass. To contact the SECAP team, call 617-789-2574.
###