St. Elizabeth's Medical Center Offers Breakthrough Treatment for Patients with a Leaky Heart Valve Who Are Too High-Risk for Surgery
April 8 2019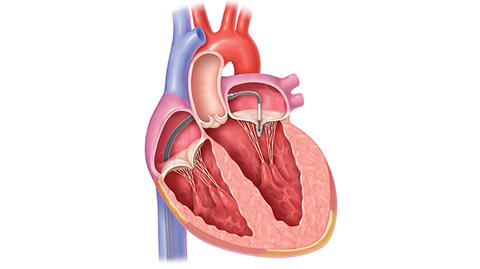 Cardiac Team Successfully Performs the Hospital's First MitraClip® Minimally Invasive Procedure for Severe Mitral Regurgitation to Correct Serious Heart Valve Condition
BRIGHTON, MA - The multidisciplinary valve team at St. Elizabeth's Medical Center recently began to offer MitraClip® therapy—a minimally invasive treatment option for people with a severe leak in the mitral valve who are too high-risk for traditional open heart surgery.1 The condition, called mitral regurgitation (MR), is the most common heart valve disease. 2  
"The MitraClip procedure offers hope to so many more people with MR," said Joseph P. Carrozza, Jr., MD, Chief, Cardiovascular Medicine and structural heart specialist. "For patients who are not candidates for surgery, this procedure can significantly improve quality of life and in some cases, save lives."
A leak in the mitral valve occurs when the flaps, or doors, do not close completely, allowing blood to flow back into the heart as it pumps. The heart has to work harder, as a result, to keep blood flowing and can raise the risk for life-threatening stroke and heart failure. When MR becomes severe, it can profoundly affect a person's quality of life by causing shortness of breath, extreme fatigue, and other debilitating symptoms.2  
"While Mitral valve surgery, including repair and replacement, is the preferred treatment for degenerative mitral regurgitation, some, due to age, advanced heart failure or other serious conditions may be better candidates for transcatheter mitral valve repair," said Arvind Agnihotri, MD, Chief, Cardiac Surgery, St. Elizabeth's Medical Center. "This less invasive option is performed in a Cath Lab under the direction of a multidisciplinary team of cardiac surgeons and structural heart experts."
During the procedure, the small MitraClip® NT clip is guided into place using a thin tube (or catheter) guided through a small incision in a leg vein by a combined surgical and cardiology valve team. The clip is then attached to the flaps of the mitral valve to help it close more completely and restore normal blood flow.1 Patients tend to have a short hospital stay and experience improved heart function and symptoms almost immediately.3 
For more information visit semc.org/cardiology or call (617) 789-2045.
###
About St. Elizabeth's Medical Center
St. Elizabeth's Medical Center is a major academic medical center affiliated with Tufts University School of Medicine.  Areas of medical excellence include vascular and endovascular surgery, cardiology, neurosciences, general and robotic surgery, bariatric surgery, women's health, high-risk obstetrics, bone and joint health, hematology/oncology, pulmonary medicine and emergency medicine.  St. Elizabeth's is a member of Steward Health Care. Visit St. Elizabeth's online at www.semc.org.