St. Elizabeth's Medical Center and Steward Medical Group Welcome Hepato-Pancreato-Biliary Surgeon Claudius Conrad, MD, PhD, FACS
December 26 2018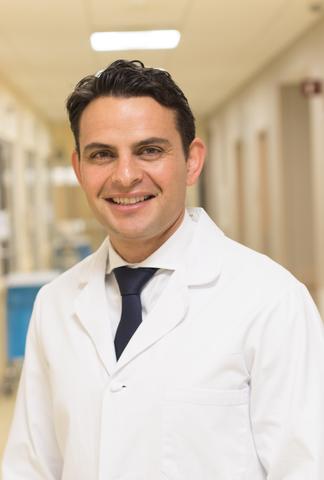 World renowned surgical oncologist brings highly specialized care to the St. Elizabeth's and Steward communities
BRIGHTON, MA – St. Elizabeth's Medical Center and Steward Medical Group welcome Hepato-Pancreato-Biliary Surgeon Dr. Claudius Conrad, MD, PhD, FACS to its medical staff as Chief of General Surgery and Surgical Oncology and Director of Hepato-Pancreato-Biliary Surgery. Dr. Conrad brings years of clinical experience to the St. Elizabeth's community and the greater Steward communities including Merrimack Valley, MetroSouth and the Southcoast,  as an international pioneering expert in minimally invasive (laparoscopic and robotic) surgical management of the Hepato-Pancreato-Biliary system. This includes diseases and cancers of the liver, pancreas, gallbladder, bile ducts, duodenum and spleen.
"Liver and pancreatic cancer require dedicated and specialized treatment of care," said Dr. Conrad. "I am excited to be able to grow this program for the benefit of patients at St. Elizabeth's Medical Center and for the Steward system in Massachusetts. My goal is to grow an interdisciplinary program focused on excellent patient outcomes, less trauma through minimally invasive approaches and a wonderful patient experience."
Dr. Conrad, who joined St. Elizabeth's in December 2018, also brings a robust research program to complement clinical innovations, specifically in understanding cancer biology and using music to complement healing of his patients. As a classically trained and accomplished concert pianist, he co-founded the field of clinical research on the science of music in medicine. His background includes:
•    Board Certifications: General Surgery, Minimally Invasive Hepato-Pancreato-Biliary Surgery and General Complex Surgical Oncology
•    Fellowships: Institut Mutualist Montsouris, Paris; University of Tokyo; Dana-Farber/Partners CancerCare
•    Residencies: General Surgery, Massachusetts General Hospital
•    Medical School: University of Munich; Harvard Medical School
•    Post Graduate Training (PhDs): Doctor Philosophiae in Music Science, University of Munich;  Doctor Medicinae Habil in Surgery, University of Munich
Dr. Conrad is welcoming patients today and can be reached at:
St. Elizabeth's Medical Center
Medical Office Building, Suite 201
11 Nevins Street
Brighton, Massachusetts 02135
Phone: (617) 789-2442
Fax: (617) 202-4349
###
About St. Elizabeth's Medical Center
St. Elizabeth's Medical Center is a major academic medical center affiliated with Tufts University School of Medicine.  Areas of medical excellence include liver and pancreas surgery, vascular and endovascular surgery, cardiology, neurosciences, general and robotic surgery, bariatric surgery, women's health, high-risk obstetrics, bone and joint health, hematology/oncology, pulmonary medicine and emergency medicine.  St. Elizabeth's is a member of Steward Health Care. Visit St. Elizabeth's online at www.semc.org.
About Steward Health Care 
Steward Health Care is the largest private, for profit physician led health care network in the United States. Headquartered in Dallas, Texas, Steward operates 36 hospitals in the United States and the country of Malta that regularly receive top awards for quality and safety. The company employs approximately 40,000 health care professionals. The Steward network includes multiple urgent care centers and skilled nursing facilities, substantial behavioral health services, over 7,900 beds under management, and approximately 2.2 million full risk covered lives through the company's managed care and health insurance services. 
The Steward Health Care Network includes five thousand physicians across 800 communities who help to provide more than 12 million patient encounters per year. Steward Medical Group, the company's employed physician group, provides more than six million patient encounters per year. The Steward Hospital Group operates hospitals in Malta and nine states across the U.S., including Arizona, Arkansas, Florida, Louisiana, Massachusetts, Ohio, Pennsylvania, Texas, and Utah.