St. Elizabeth's Medical Center Implants "World's Smallest Pacemaker" Into Patient's Heart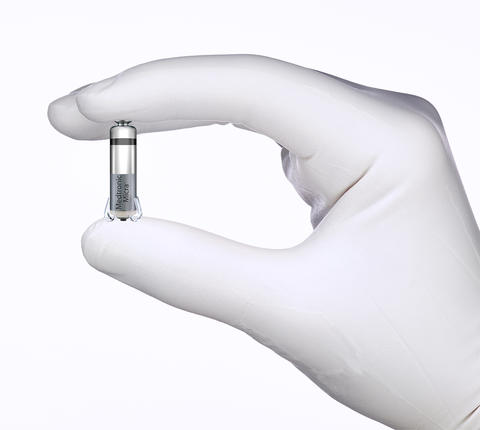 Comparable in size to a large vitamin, the Micra® TPS is a miniaturized heart device designed to provide the most advanced pacing technology for patients whose hearts beat too slowly
BRIGHTON, MA – St. Elizabeth's Medical Center recently implanted the world's smallest pacemaker, a U.S. Food and Drug Administration-approved medical device about the size of a large vitamin and as lightweight as a penny that is changing the face of cardiac care for patients whose hearts beat too slowly. The Micra® Transcatheter Pacing System (TPS), now approved for Medicare reimbursement, is a new device that provides patients with the most advanced pacing technology at one-tenth the size of a traditional pacemaker.
"This is a wonderful breakthrough for patients," said Shaw Natan, MD, Associate Director, Cardiac Devices and Clinical Services; Cardiac Electrophysiology, St. Elizabeth's Medical Center. "This is a safe alternative to conventional pacemakers. There's no bump in the chest and the patients can barely tell they have a pacemaker implant. Its size makes having the implant device more comfortable for the patient and the lack of leads, or wires, that conventional pacemakers use to carry electronic impulses to the heart, means the device carries less risk of failing." 
Dr. Natan performed the first implant of this technology at St. Elizabeth's. The Micra is minimally invasive and inserted into the heart's right ventricle through a vein in the patient's groin. Dubbed the "world's smallest pacemaker," the Micra is about one-tenth the size of a conventional pacemaker and delivers electrical pulses to the heart directly, without leads. Four tiny tines anchor the Micra in place and its battery will last for 9-12 years. Other benefits include:
o    Does not require a surgical incision or creation of a "pocket" under the skin, which eliminates any visible sign of the device and a potential source of complications
o    Cosmetically invisible to the patient after implantation  
o    Is approved for full body MRI scans
o    Responds to patients' activity levels by automatically adjusting therapy
o    The Micra design incorporates a retrieval feature to enable retrieval when possible; however, the device is designed to be left in the body
"This is a single chamber pacemaker that cannot be used in all patients, but in the future, with advancements in technology, we may be able to offer this to all patients needing pacemakers. I am delighted that St. Elizabeth's can continue to provide cutting edge care to our patients," said John Wylie, MD, Director of Steward Electrophysiology. Additionally, the Micra, which was approved by the Food and Drug Administration in April 2016, also reduces the infection rate for patients who have a high risk of infection, he said. 
Pacemakers, including the Micra, were designed to treat a condition known as bradycardia, in which the heart beats too slowly or in an irregular rhythm. Patients with bradycardia often suffer dizziness, fatigue and other symptoms because the heart is unable to pump enough oxygenated blood throughout the body. The pacemaker's electrical pulse regulates the heart's rhythm, restoring a normal heart rate. 
This innovation comes on the heels of the physicians at St. Elizabeth's Medical Center Cardiac Electrophysiology Department recently performing the institution's 50th implant of the WATCHMAN™ Left Atrial Appendage Closure (LAAC) Device on a patient with atrial fibrillation (AF). The hospital is one of only a few in the greater Boston area to offer the WATCHMAN device as an alternative to the lifelong use of warfarin or other blood thinners for people with AF.
For more information, contact the St. Elizabeth's Medical Center Electrophysiology Service at (617) 789-3187 or visit www.semc.org/cardiac.
###
About St. Elizabeth's Medical Center
St. Elizabeth's Medical Center is a major academic medical center affiliated with Tufts University School of Medicine.  Areas of medical excellence include vascular and endovascular surgery, cardiology, neurosciences, general and robotic surgery, bariatric surgery, women's health, high-risk obstetrics, bone and joint health, hematology/oncology, pulmonary medicine and emergency medicine.  St. Elizabeth's is a member of Steward Health Care. Visit St. Elizabeth's online at www.semc.org.