​​​​​​​St. Elizabeth's Medical Center Earns Certificate of Excellence from the Perinatal-Neonatal Quality Improvement Network of Massachusetts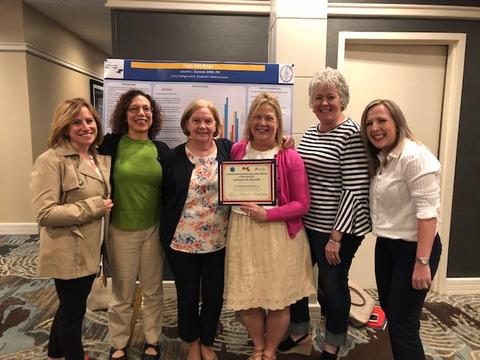 Recognition reflects work done to improve the care of substance exposed newborns and their families
BRIGHTON, MA - St. Elizabeth's Medical Center has earned a Certificate of Excellence from the Perinatal-Neonatal Quality Improvement Network of Massachusetts for work done to highlight the care for substance exposed newborns and their families at the annual Improving the Care of Mothers, Infants and Families Impacted by Perinatal Opioid Use: A Massachusetts Statewide Initiative Conference.
A team from St. Elizabeth's including Lauren Durand, MSN, RN, Mother Baby Unity staff nurse and graduate nursing student from Curry College, Project Director and NICU Nurse Educator Cathleen Dehn, PhD, MSN, MA, RN, CCRN, Director of Maternal Child Health Jennifer Gregoire, MSN, RN, Chief of Maternal Fetal Medicine Lucy Bayer-Zwirello, MD and Curry College Elizabeth Kudzma, DNSc,RN, MPH, WHNP-BC, presented a poster entitled "Hugs Not Drugs".  The goal of the project is to foster the empowerment of mothers to keep their babies calm through skin-to-skin holding and to promote non-pharmacologic management of infants experiencing Neonatal Abstinence Syndrome.
The poster reflected work done with five families successfully avoiding NICU admissions and babies not requiring medication to treat their Neonatal Abstinence Syndrome. This year there were 25 hospitals present at the conference, and St. Elizabeth's was one of four recipients of the Certificate of Excellence.
"This recognition is a direct result of the multidisciplinary approach from dedicated professionals across Maternal Child Health at St. Elizabeth's including obstetricians, maternal fetal medicine specialists, pediatricians, neonatologists, social workers, mental health workers, lactation consultants and nurses," said Jennifer Gregoire MSN, RN, Director of Maternal Child Health, St. Elizabeth's Medical Center. "We are committed to an integrative care model and we are proud that this honor reflects our efforts."
Photo: St. Elizabeth's Maternal Child Health Team (L to R): Mary Turowski, Catherine Everett, Hope Kellman, Chery Cirillo, Terry O'Connor, Cathleen Dehn, Mary Staude, Jen Gregoire. Not pictured: Kerry Flaherty, Christine Connolly, and Brett Jean.
###
About St. Elizabeth's Medical Center
St. Elizabeth's Medical Center is a major academic medical center affiliated with Tufts University School of Medicine.  Areas of medical excellence include vascular and endovascular surgery, cardiology, neurosciences, general and robotic surgery, bariatric surgery, women's health, high-risk obstetrics, bone and joint health, hematology/oncology, pulmonary medicine and emergency medicine.  St. Elizabeth's is a member of Steward Health Care. Visit St. Elizabeth's online at www.semc.org.