Steward Center for Weight Control at St. Elizabeth's Medical Center Earns National Accreditation from the Metabolic and Bariatric Surgery Accreditation and Quality Improvement Program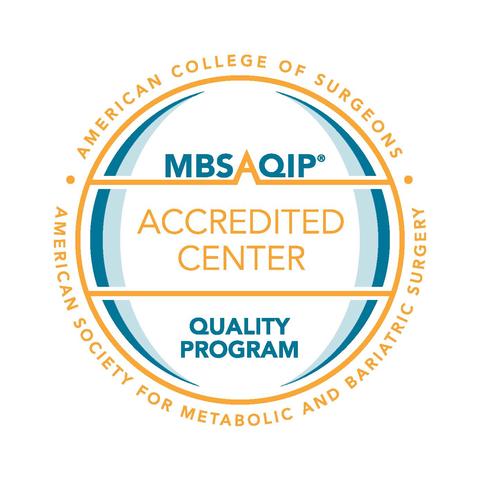 Bariatric surgery program meets all criteria as a Comprehensive Center according to national quality standards established to deliver safe, high quality bariatric patient care
May 22, 2017 – BRIGTON, MA – For the last 12 years, the Steward Center for Weight Control at St. Elizabeth's Medical Center has earned Center of Excellence accreditation through the American College of Surgeons and most recently through Metabolic and Bariatric Surgery Accreditation and Quality Improvement Program (MBSAQIP®). MBSAQIP is a joint program of the American College of Surgeons (ACS) and the American Society for Metabolic and Bariatric Surgery (ASMBS). Patients seeking surgical treatment for severe obesity and its related conditions have a high-quality choice for receiving treatment at a nationally accredited program that meets the highest standards for patient safety and quality of care in the greater Boston area. 
The MBSAQIP Standards, outlined in the Resources for Optimal Care of the Metabolic and Bariatric Surgery Patient, ensure that bariatric surgical patients receive a multidisciplinary program, not just a surgical procedure, which improves patient outcomes and long-term success. The accredited center offers preoperative and postoperative care designed specifically for their severely obese patients.
"The Steward Center for Weight Control program, which currently spans five sites in Eastern Massachusetts, operates with a fundamental commitment to personalized quality care," said Nicole Pecquex, MD, Director, Steward Center for Weight Control. "Our staff is well trained in the unique needs of our patients and our team meets regularly to discuss outcomes. As a group we seek to continuously improve patient care as well as the structure, process and outcomes of the center."
To earn the MBSAQIP designation, St. Elizabeth's Medical Center, the surgical site for the Steward Centers for Weight Control, met essential criteria for excellence in patient care including areas such as staffing, training and facility infrastructure and protocols for care, ensuring its ability to support patients with severe obesity. The center also participates in a national data registry that yields semiannual reports on the quality of its processes and outcomes, identifying opportunities for continuous quality improvement. The standards are specified in the MBSAQIP Resources for Optimal Care of the Metabolic and Bariatric Surgery Patient, published by the ACS and ASMBS.
After submitting an application, centers seeking MBSAQIP Accreditation undergo an extensive site visit by an experienced bariatric surgeon, who reviews the center's structure, process, and clinical outcomes data. Centers are awarded a specific designation depending on how many patients it serves annually, the quality of that care, and the type of procedures it provides.
In the United States, around 15.5 million people suffer from severe obesity, according to the National Institutes of Health, and the numbers continue to increase. Obesity increases the risks of morbidity and mortality because of the diseases and conditions that are commonly associated with it, such as type II diabetes, hypertension, and cardiovascular disease, among other health risks. Metabolic and bariatric surgical procedures have proven to be effective in the reduction of comorbid conditions related to severe obesity.* Working with ASMBS, the ACS expanded this quality program for bariatric surgery centers so that it can assist bariatric patients in identifying those centers that provide optimal surgical care.
# # #
About St. Elizabeth's Medical Center
St. Elizabeth's Medical Center is a major academic medical center affiliated with Tufts University School of Medicine.  Areas of medical excellence include vascular and endovascular surgery, cardiology, neurosciences including neurosurgery, general and robotic surgery, bariatric surgery, women's health, high-risk obstetrics, bone and joint health, hematology/oncology, pulmonary medicine and emergency medicine.  St. Elizabeth's is a member of Steward Health Care.  Visit St. Elizabeth's online at www.semc.org.
About the American College of Surgeons
The American College of Surgeons is a scientific and educational association of surgeons that was founded in 1913 to raise the standards of surgical education and practice and to improve the quality of care for the surgical patient. Its achievements have placed it at the forefront of American surgery and have made the College an important advocate for all surgical patients. The College has more than 80,000 members and is the largest organization of surgeons in the world.
About the American Society for Metabolic and Bariatric Surgery
The American Society for Metabolic and Bariatric Surgery, founded in 1983, was formed to advance the art and science of metabolic and bariatric surgery by continually improving the quality and safety of care and treatment of people with obesity and related diseases through educational and support programs for surgeons and integrated health professionals.
________________________
*Buchwald H, Avidor Y, Braunwald E, et al. Bariatric Surgery: A Systematic Review and Meta-analysis. JAMA. 2004;292(14):1724-1737. DOI:10.1001/jama.292.14.1724.
###