St. Elizabeth's Medical Center's Center for Wound Care Recognized with National Award for Clinical Excellence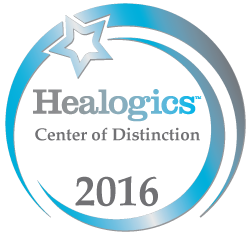 St. Elizabeth's Medical Center's Center for Wound Care earned a national award for clinical excellence.  The Center of Distinction award, which was given to St. Elizabeth's Medical Center by Healogics, St. Elizabeth's Center for Wound Care management company, highlights outstanding clinical outcomes for 12 consecutive months, including patient satisfaction higher than 92 percent, and a wound healing rate of at least 91 percent in less than 31 median days. Out of 630 Centers eligible for the Center of Distinction award, 334 achieved this honor in 2016.
"A comprehensive wound care plan is critical to positive outcomes for many patients with a variety of underlying medical conditions," said Allen B. Davis, MD, director of the St. Elizabeth's Center for Wound Care. "Our Center for Wound Care is focused on each patient as an individual and restoring him or her to a better quality of life."
The Wound Care Center® is a member of the Healogics network of nearly 800 Centers, with access to benchmarking data and proven experience treating approximately 2.5 million chronic wounds. St. Elizabeth's Center for Wound Care offers highly specialized wound care to patients suffering from diabetic ulcers, pressure ulcers, infections and other chronic wounds which have not healed in a reasonable amount of time. Some of the leading-edge treatments offered at the Wound Care Center include negative pressure wound therapy, debridement, application of cellular-based tissue or skin substitutes to the wound, offloading or total contact casts and hyperbaric oxygen therapy. The caring staff at St. Elizabeth's Wound Care Center works at a committed level of excellence for our patients and hospital partners.
For more information wound healing, contact the St. Elizabeth's Medical Center's Center for Wound Care at 617-779-6800.
###
About St. Elizabeth's Medical Center
St. Elizabeth's Medical Center is a major academic medical center affiliated with Tufts University School of Medicine.  Areas of medical excellence include vascular and endovascular surgery, cardiology, neurosciences including neurosurgery, general and robotic surgery, bariatric surgery, women's health, high-risk obstetrics, bone and joint health, hematology/oncology, pulmonary medicine and emergency medicine.  St. Elizabeth's is a member of Steward Health Care.  Visit St. Elizabeth's online at www.semc.org.
About Healogics
Headquartered in Jacksonville, Fla., Healogics is the nation's largest provider of advanced wound care services. Healogics and its affiliated companies manage nearly 800 Wound Care Centers® in the nation and saw nearly 300,000 patients in 2014 through a connected network of partner hospitals and Wound Care Centers, academic medical centers, and other post‐acute sites. Healogics utilizes an evidence‐based systematic approach to chronic wound healing to treat an underserved and growing patient population. A fund managed by Clayton, Dubilier & Rice, a private investment firm, is the majority shareholder of Healogics. For more information, please visit www.healogics.com.