St. Elizabeth's Medical Center First Hospital in New England to Implant New Investigational Heart Failure Treatment Device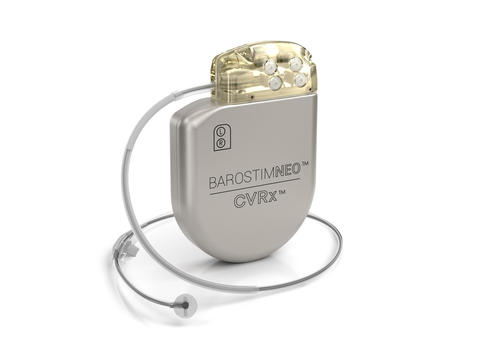 Clinical trial of implant is designed to improve heart function and reduce heart failure symptoms
[Boston, MA] —February 8, 2017 – St. Elizabeth's Medical Center is the first hospital in New England to implant a new investigational device to treat Heart Failure (HF) designed to improve heart function and reduce HF symptoms. This device, the BAROSTIM NEO, which is being evaluated in a nationwide clinical trial, is indicated for patients who do not qualify for CRT, and is designed to improve heart failure symptoms in those patients.
How it Works
According to the American Heart Association, HF is a serious condition that impairs heart function, resulting in shortness of breath, exercise intolerance and fluid retention. In the United States, HF is estimated to affect 6.5 million adults. Overall, HF is associated with a four-fold increased risk of death and a six to nine times increased risk of sudden cardiac death. The direct and indirect costs of heart failure are estimated to be $32 billion in the United States in 2013.
The BAROSTIM NEO device is designed to activate the baroreceptors in the wall of the carotid artery which stimulate the different pathways of the autonomic nervous system. This in turn relaxes blood vessels, slows the heart rate, and reduces fluid in the body by improving kidney function. Cardiac structure and function can be improved by decreasing arterial resistance and reducing the workload of the heart, improving the heart's pumping ability. 
"This exciting new device can potentially benefit patients who are suffering from heart failure but do not derive benefit from current available treatments," said Lana Tsao, MD, Heart Failure Program Director at St. Elizabeth's Medical Center. "Hence, finding new therapies is critical to help improve the quality of life of many heart failure sufferers, as well as potentially prolong survival. This new therapy, which is seeking FDA approval, is for patients who, despite being on prescribed medications, feel constantly fatigued and out of breath and most have been hospitalized for HF related breathing complications in the past year."
According to Dr. Tsao, the first patient to receive the investigational implant is doing well.  Study of the investigational device is part of the BeAT-HF Phase III clinical trial is designed to demonstrate the safety of BAROSTIM NEO and its effectiveness on symptoms and clinical outcomes in patients suffering from chronic heart failure. To qualify for this device, patients must be:
New York Heart Association (NYHA) Functional Class III
Left Ventricular Ejection Fraction ≤ 35%
Elevated NTproBNP
On current heart failure guideline-directed medical therapy
For more information about this investigational treatment, place contact the St. Elizabeth's Center for Heart Failure Treatment at 617-789-2456 or visit https://www.semc.org/services-directory/cardiac.
The St. Elizabeth's Center for Heart Failure Treatment is among the leading treatment centers in the New England region. The Center has been recognized as:
the recipient of the 2016 Get With The Guidelines®-Heart Failure Silver Plus Quality Achievement Award for implementing specific quality improvement measures outlined by the American Heart Association/American College of Cardiology Foundation's secondary prevention guidelines for patients with heart failure;
a U.S. News & World Report "best hospitals" for 2016-2017 in the Boston Metro area for our treatment of chronic heart failure (CHF);
regional center for the IV "Lasix Spa" which is a dedicated clinic to help patients manage unneeded fluid retention and salt to promote better heart function; and,
One of new England's busiest centers for CardioMEMS HF: an implantable, wireless monitoring sensor for outpatients with heart failure. The CardioMEMS HF System is the first and only FDA-approved heart failure monitoring device proven to significantly reduce hospital admissions for heart failure and improve quality of life for advanced heart failure patients.
###
About St. Elizabeth's Medical Center
St. Elizabeth's Medical Center is a major academic medical center affiliated with Tufts University School of Medicine.  Areas of medical excellence include vascular and endovascular surgery, cardiology, neurosciences including neurosurgery, general and robotic surgery, bariatric surgery, women's health, high-risk obstetrics, bone and joint health, hematology/oncology, pulmonary medicine and emergency medicine.  St. Elizabeth's is a member of Steward Health Care.  Visit St. Elizabeth's online at www.semc.org.