St. Elizabeth's Medical Center Offers New Procedure To Treat Adults with Severe Persistent Asthma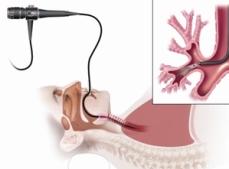 Bronchial thermoplasty delivered by the Alair™ System proven safe, effective, and lasting in reducing asthma attacks
Brighton, MA –- The Pulmonary Medicine Division at St. Elizabeth's Medical Center now offers Bronchial Thermoplasty (BT) delivered by the Alair™ System as a safe outpatient bronchoscopy procedure that has been shown to reduce asthma attacks and emergency rooms visits and improve asthma-related quality of life for adult patients with severe persistent asthma.
St. Elizabeth's Medical Center offers this first of its kind medical device procedure to provide severe asthma patients, 18 years and older whose asthma is still not well controlled despite the use of daily medications, with a safe, long-lasting, and proven treatment option to help reduce asthma attacks.
BT does not replace asthma medications, but rather works in conjunction to reduce the frequency and severity of asthma exacerbations. During BT treatment, adult patients receive three sessions, three weeks apart by a trained pulmonologist. BT uses heat therapy to reduce the amount of excess smooth muscle tissue lining the airways and helps minimize the narrowing of a patient's airways during an asthma attack. Each session lasts approximately an hour and focuses on a different part of the lung to ensure all areas are treated. After all three treatments are complete, patients return to their regular asthma-treating physician to continue managing their asthma.
"Bronchial Thermoplasty has proven benefits for severe asthma patients, including improving their quality of life and reducing the use of systemic steroids," said St. Elizabeth's Medical Center Pulmonologist Samaan Rafeq, MD, who is specially trained to perform bronchoscopy procedures and BT.
In a clinical trial, almost 79 percent of patients treated with BT reported significant improvements in their asthma-related quality of life, including a reduction in asthma attacks, ER visits and hospitalizations for respiratory symptoms, and fewer days lost from work, school, and other daily activities due to asthma.
To learn more about Bronchial Thermoplasty or to make an appointment with a pulmonologist at St. Elizabeth's Medical Center, please call 617-789-2AIR (2247).
About St. Elizabeth's Medical Center
St. Elizabeth's Medical Center is a major academic medical center affiliated with Tufts University School of Medicine.  Areas of medical excellence include vascular and endovascular surgery, cardiology, neurosciences, general and robotic surgery, bariatric surgery, women's health, high-risk obstetrics, bone and joint health, hematology/oncology, pulmonary medicine and emergency medicine.  St. Elizabeth's is a member of Steward Health Care, which is the second largest health care system in New England.  Visit St. Elizabeth's online at www.semc.org.