Following 18 years with New England Patriots, Joe Van Allen joins Steward Health Care as Vice President for Rehabilitation Services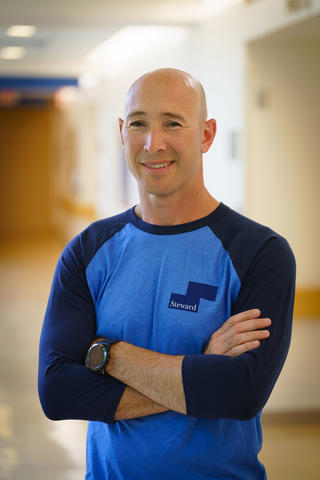 Van Allen was Director of Rehabilitation for New England Patriots during Six Super Bowl Victories
BOSTON, MA – Former New England Patriots Director of Rehabilitation Joe Van Allen has announced that he will be joining Steward Health Care where he will oversee the rehabilitation and sports performance programs provided across the Eastern region of the nation's largest private health care system effective August 31, 2019.
Van Allen served as Director of Rehabilitation for the Patriots from 2001 until 2019 during which time he helped to lead the athletic training operations of the six-time Super Bowl championship winning franchise.
Van Allen will play a key role in the launch of the Boston Sports Performance Center, which will open at the Boston Sports Institute, a Steward Family Facility, later this year, and will maintain offices at both the Boston Sports Performance Center and St. Elizabeth's Medical Center, while overseeing rehabilitation services at clinics and hospitals throughout the region.
"I am excited to begin a new chapter in my career by helping to lead and strengthen the excellent rehabilitation and athletic training services provided by Steward Health Care at locations throughout Massachusetts," said Van Allen. "Every person deserves to have the highest level of care during their rehabilitation journey, no matter their walk of life or where they live. That's what Steward is making possible through their convenient, affordable, world class rehabilitation services. I am thrilled to be joining the Steward team to help bring the next level of rehabilitation services and strength and conditioning programs to athletes in communities and patients throughout the region."
Dr. Thomas Gill, Chairman of Orthopedics at St. Elizabeth's Medical Center and himself the former Medical Director of the New England Patriots, welcomed Van Allen to the Steward team. "Joe is uniquely qualified to oversee the rehabilitation services and operations for thousands of patients across the growing Steward Health Care network and he brings a nationally recognized track record to the job," said Gill. "We are proud to welcome him to the Steward team. Many communities, patients, and athletes will benefit from his expertise and oversight of these important services."
Van Allen is a renowned expert and presenter in the world of athletic training and physical rehabilitation services, having served as a keynote speaker at conferences throughout the nation, in addition to having served in his high-profile role as Director of Rehabilitation Services and Assistant Athletic Director of the New England Patriots.
"I am extremely proud of all that I was able to be part of with the New England Patriots organization and the National Football League," said Van Allen. "I am so thankful to Robert Kraft, Bill Belichick, all of the players I have worked with over the years, and the entire training staff that I had the honor and privilege of serving for more than 18 years."
Van Allen commented on his passion for helping athletes achieve the best possible outcomes during their rehabilitation journeys and what it will mean to bring those services to the general public through Steward Health Care.
"Fundamentally, when we are discussing community-based care, physical rehabilitation is ensuring patients get back to optimum health; back to their families; back to their pastimes; back to the things they love to do, whether that's playing football professionally – or playing with their grandkids in the back yard."
"For most people, physical rehabilitation is also about being able to do their jobs and earn a living, pay the bills, or about being able to enjoy their retirement and remaining in the community," he said. "Helping folks return to those important, normal daily parts of life is a responsibility Steward takes incredibly seriously. I am eager to be part of advancing those goals for every single person who enters into our care."
"The opportunity to deliver the same level of direct care and care coordination received by professional athletes to the community through Steward's innovative, integrated care delivery model is an opportunity that I am thrilled to tackle head-on. We are going to help a lot of people recover faster and with a level of success that they may not have imagined being possible."
Van Allen is a member of the American Physical Therapy Association, the National Athletic Trainers' Association, the Professional Football Athletic Trainer's Society, and the National Strength and Conditioning Association.
He holds a Master of Science in Physical Therapy from the University of Miami and a Bachelor of Science in Biology from Millikin University.
###