Pharmacy Residency PGY1
Program Description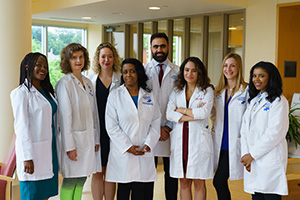 The PGY1 pharmacy residency at St. Elizabeth's Medical Center is accredited by the American Society of Health-System Pharmacists (ASHP). The 12-month program is designed to develop skills and competencies in the provision of pharmaceutical care. The resident will practice in a collaborative environment with extensive responsibilities for providing pharmaceutical care to patients. Responsibilities will include clinical and didactic teaching, as well as involvement in all aspects of clinical pharmacy services.
Program Purpose
The PGY1 pharmacy residency focuses on the progressive development of clinical skills that were first applied in the advanced pharmacy practice experiences of the Doctor of Pharmacy (PharmD) program to develop residents into clinical pharmacists capable of medication-related care of patients with a wide range of conditions. Graduates of the program will be eligible for board certification and postgraduate year 2 (PGY2) infectious disease pharmacy residency training.
Residency Expectations
Develop and refine clinical skills to successfully self-monitor and self-educate
Function proficiently as a member of the healthcare team
Participate in didactic teaching and assist as a preceptor in the training of Pharm D students from both Northeastern University and Massachusetts College of Pharmacy and Health Sciences University
Achieve abilities in various areas of pharmacy practice to pursue a wide variety of career paths and to become a leader within the profession
Required Learning Experiences
Internal Medicine I & II
Cardiology
Critical Care
Administration
Required Longitudinal Responsibilities
Administrative
Medication Use Evaluations
Scholarship Project – Research and Quality Improvement
Teaching

1 Noon Conference
1 Pharmacy CE
Facilitate student topic discussions
Precepting pharmacy students
Northeastern University Teaching Certificate

Pharmacy Practice: Staffing

Weekends – Every third weekend
Evenings – Every third Friday during the second half of the year
Holidays (1 major and 1 minor)
Elective Rotations
Emergency Medicine
Neonatal ICU
Infectious Disease
Advanced Infectious Disease
Cardiac Intensive Care Unit
Surgical Intensive Care Unit
Oncology Sterile Compounding (Off-site at Norwood Hospital)
Successful completion of the program is contingent on adherence to St. Elizabeth's Medical Center's policies and procedures, completion of the ASHP learning objectives on PharmAcademic, conduction of a research project, and attendance and presentation at Eastern States Conference.
Eligibility
United States citizen or resident alien
PharmD degree from a school of pharmacy accredited by the Accreditation Council for Pharmacy Education (ACPE)
Licensed or eligible for licensure by July 1
International applicants must have completed a pharmacy education or international training program from the Massachusetts College of Pharmacy and Health Sciences (MCPHS) University or be part of a MCPHS affiliate agreement, in addition to the above requirements.
How to Apply
Residency candidates should complete an electronic residency application using ASHP PhORCAS, which will include: 
Letter of intent
Curriculum Vitae (CV)
Pharmacy school transcripts
Three (3) letters of recommendation, including one from a faculty member and one from an employer
The Application deadline is  January 6, 2020. Interviews will be completed in February.
Benefits
Annual stipend: $40,000
Medical insurance
Vacation Time (10 days)
Sick Time (10 days)
Paid holidays
Personal desk space with a personal laptop
Travel/CE allowance  
Number of Positions
PGY1: 3 Positions (2 International and 1 National)
PGY1 Residency Program Director Contact Information
Lindsay Arnold, PharmD, BCPS
Department of Pharmacy Services
St. Elizabeth's Medical Center
736 Cambridge St.
Boston, MA 02135
617-789-5102
[email protected]