Minimally Invasive Hand Surgery Gives Guitar Player Back His Chords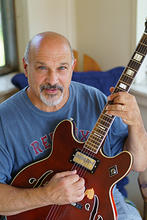 Gregory "Greg" S. started playing the guitar when he was 10 years old. When severe carpal tunnel syndrome began to significantly impair his playing, he knew it was time to pay attention to his symptoms.
"My fingers had forgotten how to play a "C" chord," explained Greg. "They wouldn't go where I told them to on the fretboard. I felt tingling from the tip of my fingers to the base of my knuckles and couldn't even feel the tips of my fingers."
For the better part of two years, Greg had been playing the guitar with symptoms. His hand would fall asleep while he was playing. "I had to shake my hand to resume playing," said Greg. He was using a wrist splint at night and applying lotion throughout the day to manage the constant itching. Despite his symptoms, Greg continued his weekly hand stretches and flexibility exercises. 
When it came time for his annual physical with his PCP, Dr. Paul Fallon, a member of Steward Medical Group, Greg decided it was time to tell him about the pain and symptoms in his hand. "At this point, I had "claw hand" at night," said Greg. "Dr. Fallon has been my PCP forever. He immediately referred me to an orthopedic hand surgeon." 
Shortly after, Greg met with the medical team at the Boston Orthopedic Hand Center at St. Elizabeth's Medical Center. The team specializes in hand and wrist surgery and treatment of carpal tunnel syndrome using a minimally invasive endoscopic technique. 
A nerve test was performed by a neurologist and it confirmed what they suspected.
"Carpal tunnel syndrome is a condition where the major nerve going into your hand is severely compressed. When any part of your body is being squeezed, it is actually losing blood flow. And when you lose blood flow to the major nerve in your hand, the nerve is no longer getting the oxygen that it needs to function. In other words, the nerve itself is slowly dying. The damage to the nerve is reversible initially, but it can become irreversible once the nerve has lost too much oxygenation over time," was explained to Greg, who was diagnosed with an extreme late-stage case. Had he waited longer, the long-term nerve damage could have been permanent. Fortunately, he was still a candidate for the minimally invasive endoscopic technique. Greg's right hand was also showing the effects of carpal tunnel syndrome, though still within the normal range. 
"From my first appointment with the center's team, I felt really involved," said Greg. "I'm an engineer by trade, so I ask a lot of questions. I like to understand how things work. They always took the time to explain things in a way that I could understand and relate."
Greg decided to move forward with hand surgery.  "Before, during and after the procedure, everyone explained what they were going to do. They involved me every step of that way," said Greg.  While the endoscopic carpal tunnel release technique is done in an operating room, the patient goes home the same day.   The minimally invasive technique requires only a small incision in the palm or the wrist.
For Greg, the relief was instant. "Immediately after the procedure my fingers were warm, the tingling sensation was gone, and I could feel my fingertips."  
After surgery, Greg had four sessions of occupational therapy with St. Elizabeth's Rehabilitation and Physical Therapy Services. "At my first appointment, I could only lift 35 to 40 pounds. By my fourth visit I was lifting 80 pounds," said Greg. He still does his exercises every day and can touch his thumb to his pinky without having to push them together.
"I feel like I have a brand new hand," said Greg. "I had the surgery on a Tuesday, and by Thursday I was able to play the guitar. I've been playing every day since then. It's amazing that a 30-minute procedure and a small incision can change things so significantly."  
Greg plans on having surgery on his right hand in the coming months. "If you're affected by carpal tunnel syndrome and even considering surgery, talk to your PCP and call the team at the Boston Orthopedic Hand Center." 
For more information, contact the Boston Orthopedic Hand Center at St. Elizabeth's at 617-779-6500.