Jazz Singer, Psychologist Upstages Lung Cancer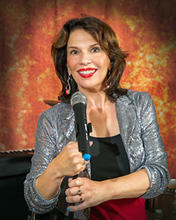 Hildy G. is a psychologist by day and a jazz singer with Follen Angels by night. It was the fall of 2006 and she was in the middle of making a CD and enjoying the season. 
"I was headed down my basement stairs in a new pair of green sandals with a cute heel when my feet went out from under me, like slipping on ice. One foot went back and the other scraped the wall in front of me. Fortunately, I was able to catch myself," said Hildy. 
The fall left Hildy with discomfort in her left wrist, elbow and right ankle so she decided to get checked out.  She didn't realize that this random accident would lead to an unexpected diagnosis. Hildy eventually had an MRI to see if she had pinched a nerve in her back. That wasn't the case. 
"The MRI picked up two tiny spots in my right lung," explained Hildy. "My internist sent me for further tests and an eventual biopsy. The diagnosis was lung cancer." 
Hildy was referred to Dr. John Wain, a renowned thoracic surgeon. "The diagnosis and uncertainty was all very scary. I didn't know anything about lung cancer," said Hildy. "From the first time I met Dr. Wain I knew he would always have my back. I appreciated that he was very realistic and factual." 
Her surgery was scheduled for three weeks later. "I was able to remove the two small tumors in two lobes and a small section of tissue around the sites. The tumors were small and they hadn't spread," said Dr. Wain. "Because of her fall, her cancer was diagnosed early, stage 1A." 
It was after the surgery and finishing her CD that Hildy understood the gravitas of the bullet she missed, "Only 15 percent of people diagnosed with lung cancer have a 5-year survival rate. It's the number one cancer killer for women." 
While recovering, Hildy read "The Alchemist" by Brazilian author Paulo Coelho. "It's a book about learning to read the omens strewn along life's path, and, above all, following our dreams. This wise guide said it was in my hands to make something of my experience," reflected Hildy. "It spurred me to think about how I could make something worthwhile and life affirming out of having had lung cancer."
Since Hildy's surgery, Dr. Wain has joined St. Elizabeth's Medical Center as the Division Chief of Thoracic Surgery and Vice Chairman of the Department of Surgery and Hildy started a non-profit, Upstage Lung Cancer, to raise awareness about lung cancer and raise money for cancer research. 
Hildy followed Dr. Wain to St. Elizabeth's.
"Dr. Wain is exactly the kind of doctor you dream about having. I trust him 100 percent and really appreciate his approach," said Hildy. "He is always respectful and kind, extremely steady, really smart and always collaborative.  When I have a scan he always reviews it step by step, discussing the similarities and differences." 
Dr. Wain and the thoracic surgeons at St. Elizabeth's are using robotic-assisted surgery and minimally invasive video-assisted thoracic surgery (VATS) to treat lung cancer, and other lung related conditions. 
Hildy encourages everyone to be aware of the risks and symptoms for lung cancer, know your family history and raise the topic with your PCP. Most importantly, she says to always advocate for yourself. 
"The fact that I have had lung cancer is ever-present for me. My annual CT scans are wonderfully reassuring yet terrifying to anticipate. There is always that 'What if' feeling of fear," said Hildy. Instead, she continues to turn her energy towards Upstage Lung Cancer.  "My life has been about helping people and now I'm using my love for music and entertainment to fight lung cancer."