Facing Thymoma with Dr. John Wain and the St. Elizabeth's Team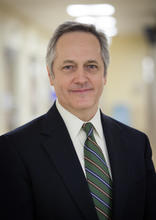 For Larry from Everett, Massachusetts, the stress and worry associated with a possible lung cancer diagnosis was like nothing else he ever faced in his life.
Larry first learned of a possible concern when doctors found a mass on his thymus, a small organ located beneath the breastbone that is included in the lymphatic system. This mass, or thymoma, would be part of his life until late 2017.
"I had an x-ray where they found the mass and then immediately the thought of cancer comes up and won't go away," said Larry.
After receiving a 2nd opinion after an MRI, he was told the mass had grown, was likely cancerous and needed to be removed immediately. Given the magnitude of the procedure, Larry checked around some more and found John Wain, MD, chief of Thoracic Surgery at St. Elizabeth's Medical Center.
With his wife and sister by his side, Larry made an appointment with Dr. Wain which changed the course of his treatment.
"Before meeting Dr. Wain, I was initially recommended for robotic surgery at another hospital which sounded great as open surgery would require my sternum to be cracked," said Larry. 
However, after meeting Dr. Wain, Larry learned that this wasn't his recommended course of action. 
"While I was nervous at this point, I had heard nothing but good things about Dr. Wain," said Larry. "He was a bit late for our appointment as he was in with another patient and I soon learned why. He was thorough, patient and really explained the situation to us. We never felt rushed and we asked him a ton of questions."
According to Dr. Wain, Larry likely didn't have cancer, "Larry was understandably nervous and concerned as his diagnosis seemed to be changing. After reviewing his imaging and his history, I felt that the mass, while unlikely cancerous, did need to be removed. And, given its location and size, a robotic procedure had a probability of leaving some of the mass behind which is dangerous. The only way I could help is through an open procedure. Larry's health was good and his attitude was great and I felt that he would do well with the procedure."
Larry was scheduled for surgery in November 2017 and, after the procedure was grateful for the prognosis. The mass did have a protrusion that would have been difficult to remove robotically as it might have broken during removal and left a lot of particles behind which would have then required radiation. However, Dr. Wain was able to remove the entire mass and, Larry was able to focus on recovery.
"I thought recovery was going to be long and painful. But after 3 or 4 days in the hospital I felt okay and went home shortly after." said Larry. "I did remarkably well and feel great. I went back to work at my autobody shop in Everett. Through it all, Dr. Wain was always available, accessible and a source of calm reassurance."
Larry's future looks very positive. According to Dr. Wain, there is always a chance that future cancer could occur. However, regular CT scans will help the medical team keep on top of any future issues. "Larry has a great prognosis. I'm very pleased with his outcomes and delighted to have been part of his care team."
For more information, visit St. Elizabeth's Thoracic Surgery Department at https://www.semc.org/services-directory/thoracic-surgery or call 617-779-6382.