St. Elizabeth's Center for Wound Care and Hyperbaric Medicine provides some of Boston's most advanced treatment options for patients with wounds that don't heal.
Wound Care Treatments at St. Elizabeth's
In state-of-the-art facilities, a multidisciplinary team offers individualized treatment to patients suffering from non-healing wounds that can result from diabetes, peripheral vascular disease, neuropathy, radiation, trauma, and other conditions. Personalized plans are aimed at healing, preventing wound recurrence, maintaining mobility and preserving limbs. The center offers a full range of medical and surgical options, as well as specialized evaluation methods, intensive treatments, and advanced therapies for patients with wounds that resist healing for more than four weeks.
Wound Evaluation and treatment options include:
Advanced wound care products
Bioengineered tissue and skin substitutes
Biografts, which work with the body's own cells to promote healing
Full contact casts
Compression therapy
Diabetic foot management
Edema control
Education about dressing changes, skin care and nutrition
Growth factor therapy, which uses a patient's own platelets to repair damaged tissue
Hyperbaric oxygen
Infection control
Negative pressure wound therapy
Pressure relief and injury prevention
Skin perfusion testing (TCPO2, SPP and PVR)
Specialized dressings to promote healing and limit the potential for infection
Vascular and podiatric surgery
Wound debridement
 
Getting Started with Wound Care
Getting started is easy!
For your first appointment, most patients are referred by their primary care physician, and the program operates by appointment. Upon referral to a Healogics Wound Care Center, patients undergo a thorough diagnostic examination to identify the type of wound they have and the underlying problems causing the wound. The initial appointment consists of a full assessment to determine the etiology of the wound, the appropriate classification and size of the wound, the overall health status of the patient, and the patient's ability to comply with needed therapies.
Based on the evaluation, a customized treatment plan is developed to optimize the therapies best suited to address the patient's needs. Wound size and depth are documented at the initial visit, and again at each subsequent visit. Some of the diagnostic modalities which may be used include:
Laboratory evaluation
Radiology (including MRI)
Transcutaneous oxygen testing
Vascular studies, electrocardiogram
Ultrasound
After this determination, a program specifically tailored to your needs will be initiated based on the most effective treatment options. An interdisciplinary approach will be used to provide the maximum healing possible.
Specialized wound care is usually administered on an outpatient basis. Patients can drive themselves to the center for therapy.
Hyperbaric Oxygen Therapy
St. Elizabeth's is one of very few hospitals in Boston offering hyperbaric oxygen therapy (HBOT), an intensive daily treatment for management of certain approved problem conditions and wounds. In HBOT, a patient relaxes in a pressurized chamber while breathing in 100 percent oxygen, accelerating the healing process by allowing the delivery of high concentrations of oxygen to the blood stream and wound bed.
What our Patients Say
Dear Wound Care Team,
I want to take this moment and thank each of you that has been working directly and indirectly toward my care. Every one of you has been so kind, friendly, helpful, caring and professional. I'm thankful for being referred to you. You always went above and beyond to help me get through these difficult times of my life. My family and I don't have words to describe how grateful we are. After two years, I started feeling more like myself. We greatly appreciate all the hard work that you and the team performed and making a difference in my life.
Thank you.
Nilton, B.
Dorchester, Massachusetts
 
Our Multidisciplinary Team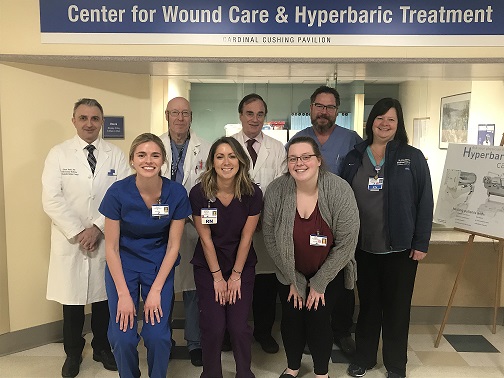 In addition to our talented physicians, the Center for Wound Care at St. Elizabeth's Medical Center has a committed staff who become deeply involved in our patients' care, treatment and overall health. Our staff includes:
Gretchen Sennott, Clinical Program Director, RN, CHRN, WCC
Mollie Sullivan, RN
Michaela Mooney, RN
Taylor Durfee, FOC
Delia Rissmiller, RN & Ruth Smith, HBO Tech