Cardiac MRI
MRI of the heart may be performed for further evaluation of signs or symptoms that may suggest:

Atherosclerosis. A gradual clogging of the arteries over many years by fatty materials and other substances in the blood stream.
Cardiomyopathy. An enlargement of the heart due to thickening or weakening of the heart muscle.
Congential heart disease. Defects in one or more heart structures that occur during formation of the fetus, such as a ventricular septal defect (hole in the wall between the two lower chambers of the heart).
Congestive heart failure. A condition in which the heart muscle has become weakened to an extent that blood cannot be pumped efficiently, causing buildup (congestion) in the blood vessels, lungs, feet, ankles, and other parts of the body.
Aneurysm. A dilation of a part of the heart muscle or the aorta, which may cause weakness of the tissue at the site of the aneurysm.
Valvular heart disease. Malfunction of one or more of the heart valves that may cause an obstruction of the blood flow within the heart.
Cardiac tumor. A tumor of the heart that may occur on the outside surface of the heart, within one or more chambers of the heart, or within the muscle tissue of the heart.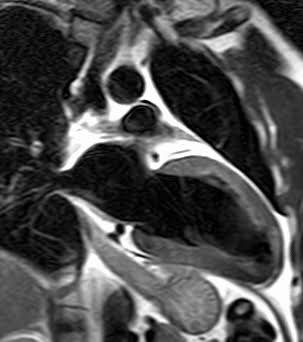 Most cardiac MRIs require the use of intravenous gadolinium. All cardiac MRIs require placement of EKG leads on the patient's body. Patients who have a severe arrhythmia may not be good candidates for cardiac MRI. Cardiac MRIs tend to be longer studies and often take more than an hour to complete.
Radiologyinfo.org for Patients
The radiology information resource for patients. RadiologyInfo.org tells you how various X-ray, CT, MRI, ultrasound, radiation therapy and other procedures are performed. It also addresses what you may experience and how to prepare for the exams. The website contains over 200 procedure, exam and disease descriptions covering diagnostic and interventional radiology, nuclear medicine, radiation therapy and radiation safety and is updated frequently with new information. All material on the RadiologyInfo.org website is reviewed and approved by experts in the field of radiology from the ACR and RSNA, as well as other professional radiology organizations.