Modified Barium Swallow
What is a Modified Barium Swallow?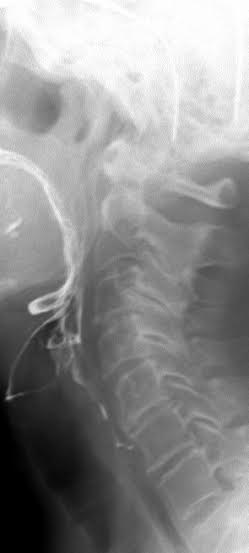 A modified barium swallow is performed in conjunction with a Speech Pathologist. A modified barium swallow is a dynamic study, specifically aimed at evaluating the swallowing mechanism. This test utilizes different food consistencies, and can identify whether the patient is aspirating certain foods or liquid. 
How do I prepare for the exam? 
You will be asked to remove jewelry or objects that may interfere with the procedure. 

What do I expect during the examination? 
You will be seated on a chair between the X-ray machine and a table. You will be asked to swallow small amounts of foods and liquids of different consistencies, mixed with barium. 

What are aftercare instructions? 
Barium can be constipating, so you will be asked to drink plenty of fluids to wash the barium out of your system, in addition to continuing your regular diet. Your stool may be whitish because of barium. The report may take two to three days, and is sent to the ordering physician. 

Radiologyinfo.org for Patients
The radiology information resource for patients. RadiologyInfo.org tells you how various X-ray, CT, MRI, ultrasound, radiation therapy and other procedures are performed. It also addresses what you may experience and how to prepare for the exams. The website contains over 200 procedure, exam and disease descriptions covering diagnostic and interventional radiology, nuclear medicine, radiation therapy and radiation safety and is updated frequently with new information. All material on the RadiologyInfo.org website is reviewed and approved by experts in the field of radiology from the ACR and RSNA, as well as other professional radiology organizations.