Center for Advanced Cardiac Surgery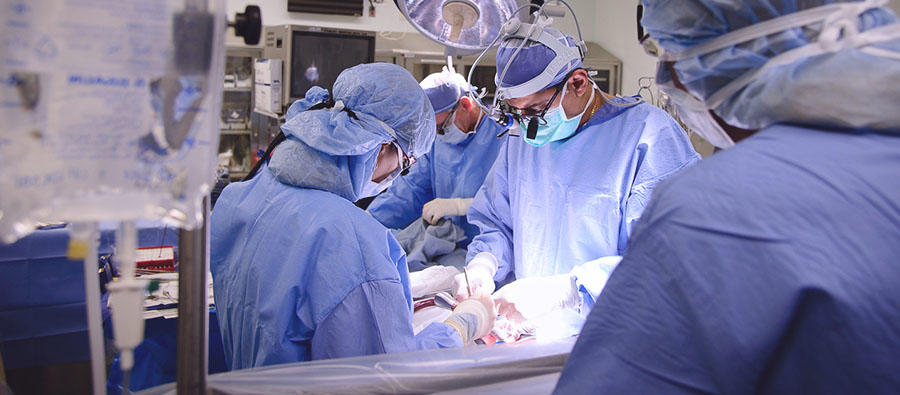 We are here to help you find what you need.
For advanced cardiac surgery options, we're not just the best choice in New England. We're the only choice.
Top-ranked surgeons at the Center for Advanced Cardiac Surgery perform some of the region's most state-of-the-art cardiac surgeries available, offering high-quality, advanced treatment options ranging from complex cardiac surgeries to minimally invasive procedures to robotic-assisted procedures. Each surgical procedure is tailored to the individual patient with a specially trained cardiac surgery team working together to provide comprehensive care before, during, and after surgery.
St. Elizabeth's Steward Center for Advanced Cardiac Surgery holds a number of quality distinctions and awards, scoring competitively with surrounding Boston hospitals for quality measures in overall recommended care, overall heart attack care, overall heart failure care, and overall surgical care. Leapfrog ranked St. Elizabeth's number one in Boston for heart bypass surgery (surgical quality and cost) and heart attack (care quality and cost). Other honors include:
Blue Cross Blue Shield Center of Distinction for Cardiac Care
Ranked Among the Top 5% in the Nation for Coronary Interventional Procedures in 2014
Ranked Among the Top 10% in the Nation for Overall Cardiac Services for 3 Years in a Row (2013-2015)
Ranked Among the Top 10% in the Nation for Cardiology Services for 3 Years in a Row (2013-2015)
Five-Star Recipient for Coronary Interventional Procedures for 3 Years in a Row (2013-2015)
Five-Star Recipient for Treatment of Heart Failure for 5 Years in a Row (2011-2015)
In The News
Read the latest news articles about the Steward Center for Advanced Cardiac Surgery. Learn about our advancements, and get to know our doctors and their achievments.

In The News

Patient Stories
Many patients who come to the Steward Center for Advanced Cardiac Surgery have a story to share about their care, recovery, and success after surgery or other treatments.

Learn More