Vascular Services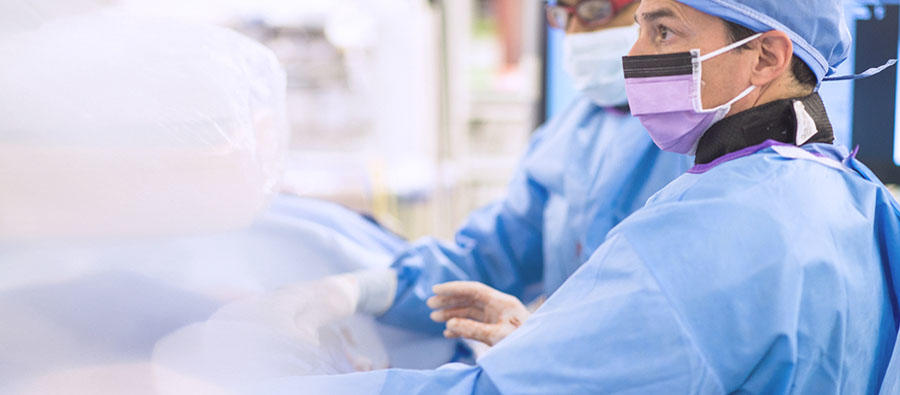 We are here to help you find what you need.
At St. Elizabeth's Medical Center, we use traditional and minimally invasive techniques to diagnose and treat vascular problems that meet each patient's individual needs.
The vascular medicine team, is led by Lawrence Garcia, MD, an internationally recognized expert in peripheral vascular disease and its treatment. Working with Dr. Garcia, is Alireza Vaziri, MD, who trained at the Cleveland Clinic, and helps lead St. Elizabeth's Non-Invasive Peripheral Vascular Lab. Also, nurse practitioner Nancy Nicholson, NP, is involved with the care of all of our patients in the vascular clinic.
The department conducts cutting-edge research and leads several international clinical trials regarding therapies for the treatment specific to patients with peripheral vascular disease. In addition, we are the only National Institutes of Health (NIH) recognized Level 1 team for treating carotid artery disease with carotid revascularization throughout the Steward Health Care System.
Our onsite, state-of-the-art Interventional Peripheral Vascular Lab is staffed by specially trained physicians, registered nurses, and technicians who use interventional- and revascularization-based techniques to treat various forms of vascular disease. St. Elizabeth's Non-Invasive Peripheral Vascular Lab provides the full range of non-invasive testing necessary for the evaluation and management of arterial and venous vascular diseases. Both labs are accredited by the Intersocietal Accreditation Commission.
Vascular Conditions We Treat
Aortic Disease/Aneurysm
Mesenteric/Visceral Renal Ischemia
Our Team
Lawrence Garcia

Cardiology & Vascular Medicine, Cath Lab & Electrophysiology, Diagnostic Cardiology Services
View Team Members
Resources
Treatment Options for Atrial Fibrillation

The goal of treating atrial fibrillation is to prevent the formation of blood clots, control the number of times per minute the ventricles contract (rate control), restore a normal heart rhythm (rhythm control), and treat any underlying condition that may be contributing to AF, such as hypertension, hyperthyroidism, sleep apnea, and obesity.