Patent Foramen Ovale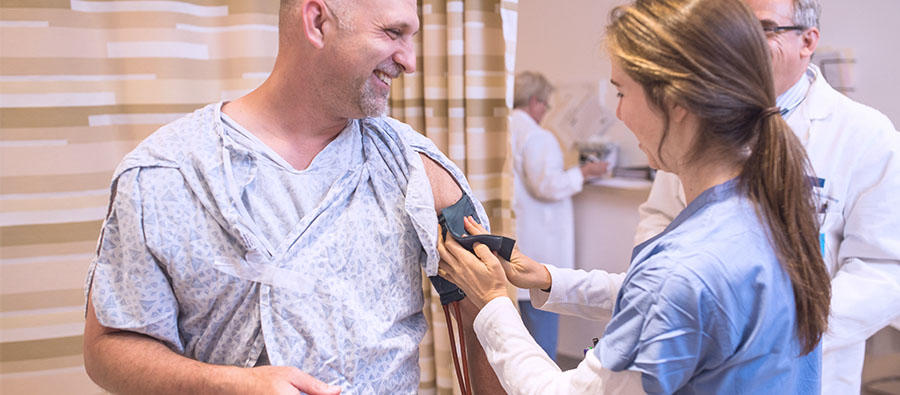 What is a patent foramen ovale (PFO)?
A patent foramen ovale (PFO) is a small flap or a valve-like opening between the left and right atria (upper chambers) of the heart. This opening exists in everyone before birth, but usually closes shortly after being born. If the flap does not close naturally after a baby is born, it is called a PFO.
Causes & Symptoms
Causes
A PFO is congenital, meaning it is a defect that exists at birth and in approximately one out of five individuals, the opening never closes. The cause of a PFO is unknown.
Symptoms
Most people with PFOs have no symptoms throughout their lives and many people with a PFO don't know they have one.
Diagnosis & Treatment
Diagnosis
Frequently, a PFO is not diagnosed until a person with the defect has a transient ischemic attack (TIA) or a stroke.
If a PFO is suspected, your doctor may order tests that can include:
Echocardiogram. A test that uses sound waves called ultrasound to look at the size, shape and motion of the heart. Variations of this procedure may be used to identify a PFO, including:

Color flow doppler. When sound waves bounce off blood cells moving through your heart, they change pitch. These characteristic changes (Doppler signals) and computerized colorization of these signals can help your doctor examine the speed and direction of blood flow in your heart. If you have a PFO, a color flow doppler echocardiogram can detect the flow of blood between the right atrium and left atrium.
Saline contrast study (bubble study). With this approach, a sterile salt solution is shaken until tiny bubbles form and then is injected into a vein. The bubbles travel to the right side of your heart and appear on the echocardiogram. If there's no flap between the left atrium and right atrium, the bubbles will simply be filtered out in the lungs. If you have a PFO, some bubbles will appear on the left side of the heart.

Transesophageal echocardiography (TEE). During a TEE, the ultrasound probe is passed down the throat and in to the esophagus. The esophagus is the tube that goes from the throat to the stomach. The esophagus sits very close to the heart and this method allows for clearer images of the heart and blood flow through the heart.
Your doctor may recommend additional tests if you're diagnosed with a PFO and you have had a stroke.
Treatment
Most people with a PFO don't need treatment. In some cases, doctors may recommend medical drug therapy for individuals who have a PFO and also experienced a stroke, or closure of the PFO in individuals who have had recurrent strokes despite medical therapy, when no other cause has been found.
Medical drug therapy. Medications can be used to try to reduce the risk of blood clots crossing a PFO. Antiplatelet therapy such as aspirin or clopidogrel (Plavix) and other blood thinning medications (anticoagulants) – such as warfarin (Coumadin, Jantoven) – may be helpful for people with a PFO who have had a stroke.
Device closure. Performed in St. Elizabeth's cardiac catheterization lab, doctors can insert a device that closes the PFO using cardiac catheterization. In this procedure, the device is on the end of a long flexible tube (catheter). The doctor inserts the device-tipped catheter into a vein in the groin and guides the device into place with the imaging assistance of an echocardiogram.