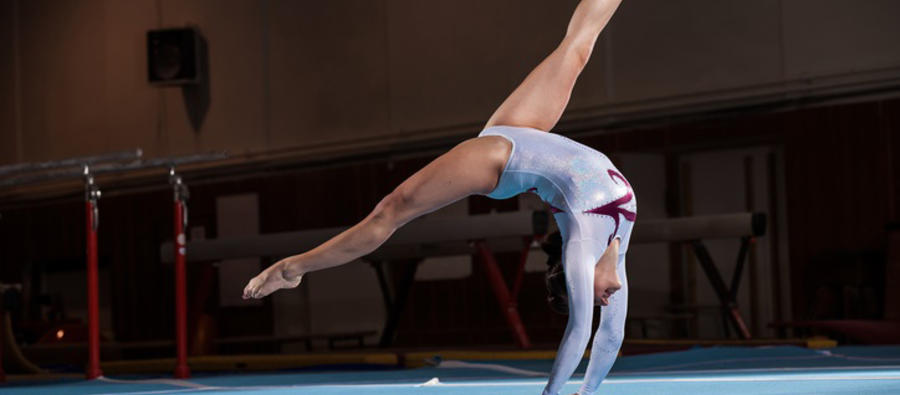 Gymnastics Medicine
Gymnastics medicine is a new field in sports medicine/orthopedics that provides gymnastics-specific care, treatment, and prevention of gymnastics injuries, as well as medical event coverage, education, and research on gymnastics and injuries.   
The Gymnastics Medicine Clinic in Boston is the only clinic in the U.S. created exclusively for the care of gymnasts and offers treatments for all common and unique gymnastics injuries. The goal of the program is to get gymnasts back to the sport they love as quickly and as safely as possible.
The clinic is led by Elspeth "Elly" Hart, PA-C, MPAS, AT,  and supported by an entire multidisciplinary team of sports medicine and orthopedic experts at St. Elizabeth's Medical Center. Hart drew on her extensive background as a competitive gymnast and medical professional to build a clinic that addresses the unique needs of gymnasts, their parents, and their coaches.
Hart and a team of skilled specialists work with gymnasts to diagnose and develop individualized plans of treatment. The clinic's unique space offers an AirTrack, balance beam, uneven bar, floor bar, panel mats, and other gymnastics-specific equipment necessary for the thorough evaluation and treatment of gymnasts.
The Gymnastics Medicine Clinic treats all gymnastics injuries, including, but not limited to: 
Back Injuries:

Spondylosis, Spondylolisthesis
Disc injuries
Muscle strains

Hip Injuries:

FAI
Labral tears
Ischial tuberosity apophysitis

Knee Injuries:

Knee Internal derangement
Meniscus tears
ACL tears and sprains
MCL and LCL tears and sprains
Osgood Schlatter Disease
Patellar tendonitis
Patellofemoral syndrome
Knee osteochondritis dissecans (OCD)
ITB friction syndrome

Ankle/Foot Injuries:

Ankle Sprains and fractures
Talar OCD
Sever's Disease/Calcaneal apophysitis
Shin splints
Muscle strains

Shoulder Injuries:

Rotator cuff tears and strains
Labral tears
AC Sprains

Wrist Injuries:

Gymnast Wrist/ Distal Radial Physeal Stress Syndrome

Elbow Injuries:

Elbow OCD
Olecranon apophysitis
Tennis/golfer's elbow
Download the Gymnastics Medicine Clinic brochure.