St. Elizabeth's Medical Center Physician Assistant Takes on "American Ninja Warrior"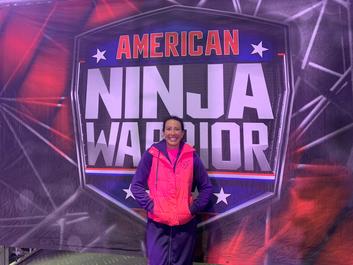 Elspeth (Elly) Hart, DScPAS, PA-C, MPAS, ATC, LAT, a Physician Assistant and Director of the St. Elizabeth's Medical Center Gymnastics Medicine Sports Medicine Program, competed on the newest season of NBC's hit show, "American Ninja Warrior." Dr. Hart traveled to Tacoma, WA to film for the show's 13th season alongside nearly 400 other ninja hopefuls from all over the country. The group competed over a five day period on a six obstacle course in hopes to qualify and move on in Season 13. 
Elly has been officially training for the show since October 2020 at Vitality Obstacle Fitness in Fall River, MA, a dedicated ninja gym. Training included long hours at the gym: Hart would spend 3-4 hours several times a week at the gym, focusing on everything from strength training to running mock courses. 
Her interest in the world of ninja warriors stemmed as a natural progression from a lifelong gymnastics career. Hart started gymnastics at the age of 3, then went on to compete as a Division 1 collegiate gymnast at James Madison University. She was also a member of a Junior Olympic Level 10 Gymnast in Massachusetts.
Hart's passion for gymnastics overlaps into her professional role: she is the Director of the Gymnastics Medicine Sports Medicine Clinic at St. Elizabeth's Medical Center, the only Sports Medicine/Orthopedic clinic dedicated to the diagnosis, treatment, and prevention of gymnastics injuries as well as creating custom return to gymnastics programs (to ensure patients can safely progress back to the sport and prevent future injuries). It is also the only clinic of its kind in the Country. Hart also covers as medical staff for USA Gymnastics and recently came back from the American Classic and GK Classic. 
Any patient who is suffering from a sport-related or gymnastics-related injuries can call 617-779-6500 to schedule a same day or next day appointment with Dr. Hart  
American Ninja Warrior airs Mondays at 8pm EST. Tune in to see whether Elly makes it through!