Richard B. Freeman Jr., M.D., MHL, Joins St. Elizabeth's Medical Center as Chief Medical Officer
Brighton, MA – Richard B. Freeman Jr., M.D., MHL, has been named Chief Medical Officer of St. Elizabeth's Medical Center (SEMC). Dr. Freeman previously held multiple positions at Dell Medical School at the University of Texas at Austin, where he most recently served as Senior Executive for Special Initiatives.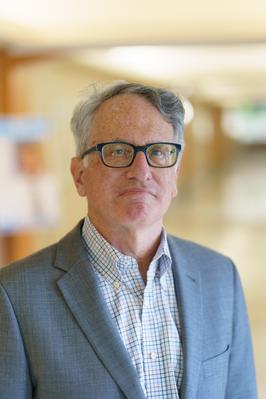 Throughout his career, Dr. Freeman has demonstrated deep expertise in both the clinical and management settings. Dr. Freeman is a veteran transplant surgeon and a leading innovator in health care delivery, with demonstrated success in strategic design, leadership development, talent acquisition, clinical practice management and clinical and academic programmatic development in complex healthcare systems. 
"We are excited to welcome a surgeon of Dr. Freeman's caliber to lead our team at St. Elizabeth's Medical Center," said James Terwilliger, President of St. Elizabeth's Medical Center. "His depth of experience with patient care and demonstrated leadership amongst physicians will be a tremendous asset as we continue to provide world-class care to our patients."
Dr. Freeman began his tenure at Dell Medical School at the University of Texas at Austin in 2015 as the inaugural Vice Dean for Clinical Affairs. In that role, he spearheaded the conceptualization and operationalization of the school's clinical enterprise. He successfully created a system of excellence in key areas such as physician engagement and steered the direction of the enterprise to be value-driven and patient-centered. In 2018, he was also named senior executive for special initiatives, where he helped to start a multi-organ transplant program as Executive Director of Transplantation Services. He also served as interim Chair of Pediatrics for just over two years, led a junior faculty leadership program, and successfully implemented a multidisciplinary hepatobiliary conference and clinic.
"I have known Dr. Freeman since surgical residency and am looking forward to working with him again as we continue to enhance and expand on SEMC's mission as the tertiary referral center for Steward Massachusetts. Dr. Freeman's proven track record as a clinician, educator and former academic department chair, alongside his tremendous operational experience on both the hospital and physician side of the business, will be a tremendous asset to our organization." said Frank Pomposelli, M.D., Chairman of the Department of Surgery at St. Elizabeth's Medical Center, Director of Surgery for the Steward Health Care Network and Professor of Surgery at Tufts University School of Medicine.
Prior to his roles at Dell Medical School, Dr. Freeman served as Chair of the department of Surgery at Dartmouth Medical School, where he was responsible for the training of 11 surgical specialties and seven graduate medical education training programs. In his time there, he demonstrated successful leadership, growing the department year over year and implementing quality improvement and leadership programs
"I am grateful for the opportunity to lead and work alongside the stellar faculty at St. Elizabeth's Medical Center," said Dr. Freeman. "I am looking forward to growing the team and continuing to deliver exceptional health care that focuses on the patients' experience, delivering high value healthcare and, identifying areas where we can continue to grow as a best-in-class organization."
In addition to his role as Chief Medical Officer, Dr. Freeman will continue to practice as a general surgeon and will see patients in clinic at 11 Nevins Street, Suite 201. Appointments can be made by calling 617-789-2442.
Dr. Freeman received his medical degree from Jefferson Medical College and completed his internship and residency in surgery, as well as his fellowship in transplantation, through the Harvard Surgical Service at BIDMC (formerly known as New England Deaconess Hospital). Dr. Freeman received his master's degree in Healthcare Leadership (MHL) from Brown University in 2020. Among his numerous academic achievements, he has participated as Principal Investigator in 30 clinical trials, and has been author on more than 300 peer-reviewed articles, book chapters and abstracts.
###
About St. Elizabeth's Medical Center
St. Elizabeth's Medical Center, a Boston University Teaching Hospital, offers patients access to some of Boston's most respected physicians and advanced treatments for a full-range of medical specialties, including family medicine, cardiovascular care, women and infants' health, cancer care, neurology care, and orthopedics. The 308-bed tertiary care facility is part of Steward Health Care. 
About Steward Health Care
Steward Health Care's physician-led business model was built to unlock access to the highest-quality care at a sustainable cost, committed to providing personalized, ongoing medical services that positively impact patients' physical, emotional, and mental well-being.
Founded in 2010, Steward Health Care is the largest physician-led health care network with more than 5,500 providers and 43,000 health care professionals caring for 12.3 million patients a year through its global network of hospitals, urgent care centers, skilled nursing facilities and behavioral health services.
Based in Dallas, Steward currently operates 44 hospitals around the world, including 34 across Arizona, Arkansas, Florida, Louisiana, Massachusetts, Ohio, Pennsylvania, Texas, and Utah, as well as five internationally within Malta and Colombia.