New Intensive Care Unit Opens at St. Elizabeth's Medical Center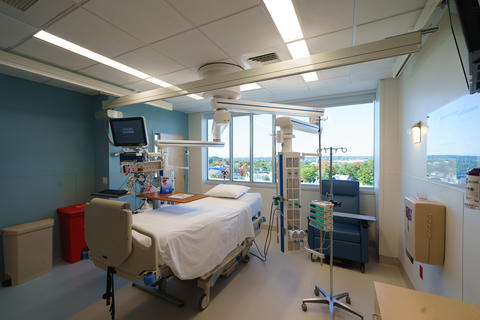 Brighton, MA – St. Elizabeth's Medical Center opened its doors to a new, state-of-the-art intensive care unit (ICU) this week. Equipped with the latest technology available for the critical care environment, the 9,988-square foot unit will support the hospital's mission of providing more high-quality care to medically complex patients. The new ICU adds 10 beds to the existing roster of critical care beds at St. Elizabeth's, boosting the hospital's total to 38.
"We designed the new ICU with a best-in-class infrastructure that mirrors our renowned physician and nursing capabilities. We wanted to ensure that our doctors and staff were equipped with the latest advanced technology at their fingertips to benefit patient care and outcomes," said Harrison Bane, president of St. Elizabeth's Medical Center.
Rooms include integrated amenities to maximize the comfort of patients and their families. New features include large windows with access to natural light, to help naturally stimulate patients' circadian rhythms, along with high ceilings and a private bathroom for maximum comfort. Each room is outfitted with innovative features vital for the critical care environment, such as mounted equipment and a dual-armed boom system, which enable streamlined in-room services. 
In addition, the new ICU is integrated with Steward Health Care's innovative eICU program, which monitors and analyzes key vital signs of critically ill patients 24/7. The eICU Program has reduced mortality by 20 percent and length of stay by 10 percent across all Steward hospitals in Massachusetts since the program began in 2012.
The new unit will primarily serve cardiothoracic patients, led by a team of world-class physicians. St. Elizabeth's Medical Center was recently named one of the 50 Best Hospitals for Cardiac Surgery™ for the fourth year in a row by Healthgrades. 
###