St. Elizabeth's is proud of its Internal Medicine Residency Program, including the close relationship we have with our almost 60 residents. We celebrate their diverse backgrounds and the contributions they make to our hospital's staff and patients. View a list of our current residents here.
Residency Committees and Teams
Health and Wellness Committee
The Health and Wellness Committee was established in 2016. The committee is composed of several members from each postgraduate (PGY) level and is responsible for planning and executing the monthly Wellness conferences and after-work activities as well (see Conferences).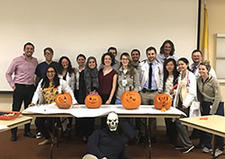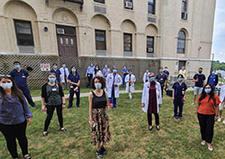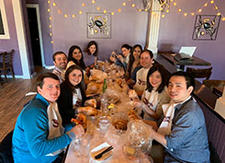 Resident Committee
The Resident Committee is composed of representatives from each PGY level and meets monthly. The Committee is responsible for raising and discussing residency related issues as well as suggesting improvements. The committee is co-chaired by a PGY2 and PGY3 representative elected each year by the committee. The co-chairs meet with the program leadership each month to discuss issues and solutions which are then communicated during the Business meeting. The co-chairs are also voting members of the Internal Medicine Program Evaluation Committee and members of the St. Elizabeth's GME Resident Council. This Committee embodies our belief in open communication between the residents and the program leadership, who work together to generate ideas and create opportunities that has served to bring many positive changes to the program.
Doctor's Dilemma Team
St. Elizabeth's is a proud participant of the American College of Physician's (ACP) Doctor's Dilemma competition. The team consists of three representatives from the residency and competes in the annual ACP Doctor's Dilemma competition, which was formerly called the Medical Jeopardy. The 2019-2020 team won the Massachusetts competition, earning the right to compete at the national ACP competition which unfortunately was canceled due to the COVID-19 pandemic. We look forward to competing in the future.
Testimonials
Laith Hattar, MD, Chief Medical Resident
I felt that St. E's was the place for me from just interviewing there. After two years, now I can say that I am so happy with the decision I made. The diversity the program offers provides a rich cultural environment that builds character and provides an amazing experience that one can never forget. I have gained an amazing family that has supported me and mentored me towards becoming a confident doctor who is able to provide the proper care patients need. The program offers a perfectly balanced experience between patient care and medical education. It greatly supports its residents in seeking their future careers whether it is a fellowship, a hospitalist position or an outpatient primary care practice. The program is in an amazing city that offers a countless number of activities to choose from.
Padma Srivoleti, MD, PGY-3
A year at St. E's has instilled a sense of confidence in me. The program embraces a culture of mentorship, guidance, and solidarity. While there is an emphasis on advancing medical knowledge, clinical skills are honed every day, therefore creating a wholesome learning experience. What sets this program apart is its incredible focus on resident well-being and development. Whether in navigating a global pandemic or in helping to shape our future career goals, our leadership always supports us. There are plenty of opportunities to indulge in research, teaching, and leadership roles within the program. Its location in the city of Boston adds to the advantage of after-hour activities. I have found a home in this diverse group of residents and can say with certainty that St.E's has made my residency experience extraordinary.
Nikolay Korchemny, MD, PGY-2
I learned more during my first year of residency here at St. E's than in any other year of my life. After working here for just over a year I can confidently say that I met many people among my peers, senior residents, and attendings who have become role models for me in all aspects of medical care such as clinical reasoning, medical knowledge, and dedication to patient care. I value personal growth and my program has certainly given me this opportunity with great point-of-care learning at a tertiary care facility with all manner of clinical challenges. We also have a terrific schedule with time for working on research projects and fellowship planning. As an IMG moving to a new country has many challenges. I've had a very easy time adjusting and feeling at home in this community; I've made close new friends and we've found time to explore Boston, travel in Massachusetts, go hiking and skiing. I'm very glad to be here and excited to see what the next two years will bring.
Tishena Lloyd PGY-2  
When applying to residency programs I thought a lot about which residency program would suit me best. I worried about whether or not I would fit in or whether I would gain the experience needed to build my confidence as a physician. During the last year I can say that I have found all of this and more. I have made friendships that I know will last a lifetime and a support system that has gotten me through all of the ups and downs that came with intern year. In terms of experience, St. E's never fails. As a tertiary care center we take care of patients from all over Boston with complex medical conditions. Every patient is a new learning opportunity that solidifies what I learned. The experiential knowledge that I've gained since starting residency has exceeded all of my expectations. I've also had many opportunities to take on leadership roles during residency that I don't think I would have had if I had matched into any other program.
Social Events
Throughout the year, there are numerous events for the house staff and faculty, including a welcome dinner for incoming interns, Christmas party, an annual retreat off-campus in the spring, graduation dinner, and annual breakfast for graduates.
The annual retreat includes an educational workshop (various themes) and ends with an outing full of fun activities. Previous post-retreat events have been held at Seaport Elite Cruises, King's Bowling, Fenway Park and a Boston Limo/Scavenger Hunt throughout the city.
Alumni
Our graduates pursue careers in academic medicine, hospital medicine and primary care medicine. During the last five years our residents have matched to outstanding fellowship positions.